by Ryan Songalia May 23, 2013 8:37am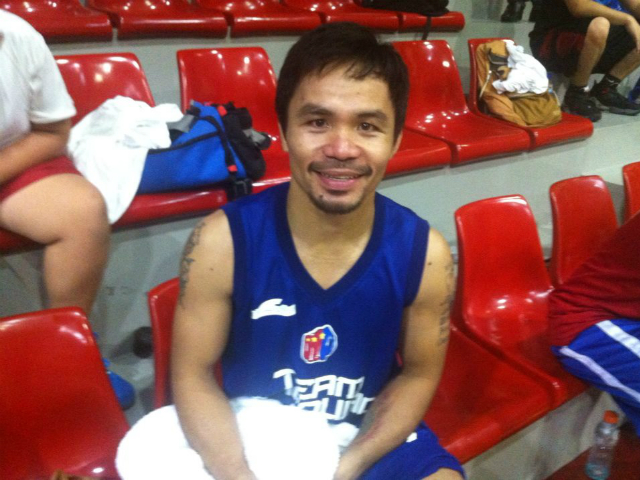 TAGUIG CITY - Away from the prizefighting ring, basketball is a refuge for Manny Pacquiao. Pacquiao, who has won world titles in a record-setting eight divisions, finds solace on the court, where he can get in a cardiovascular workout in a competitive setting without the risk of being punched.
After spending the last few months concentrating on elections (Pacquiao won congressional reelection in Sarangani after running unopposed, while his wife won vice governor of the same province), Pacquiao has finally been able to get back to his playing habits in the past two weeks.
The contests are not your average "pick-up" games; Pacquiao and his team run 48-minute, full-court games, complete with referees and (some) jerseys.
According to Pacquiao's adviser Michael Koncz, the games serve a dual purpose. "It's part of his pre-conditioning," says Koncz. "It not only puts him in shape, it relaxes him mentally, also."
On Wednesday night at a private, indoor court in Fort Bonifacio, Pacquiao and team played a doubleheader against the same group of guys they had played against the previous four days. The carefree smile Pacquiao wears as he slashes to the hoop and dishes out assists belies the state of his professional career, which, after sustaining back-to-back losses in 2012 for the first time in his 18 years as a fighter, hangs in the balance of his next bout.
When Pacquiao finally steps into the ring to face former WBA lightweight titleholder Brandon Rios at the Venetian Resort in Macau, China on November 23, the almost year-long layoff will be the longest of his career. It'll be Pacquiao's first time in the ring since being knocked out by Juan Manuel Marquez in round six of their bout last December.
Rios (31-1-1, 23 knockouts) of Oxnard, Calif. is coming off his first career defeat in a razor-thin second bout with Mike Alvarado, whom he had stopped in seven rounds in their first fight. At 27, Rios is seven years Pacquiao's junior. Pacquiao (54-5-2, 38 KOs) has now been a pro fighter for more than half of his life.
On the court, experience pulls out the win for Team Pacquiao in game one, who outplay their younger counterparts in game one by a score of 114-105. But by the second half of the doubleheader, Pacquiao's older squad is sucking wind. "Look at the two teams," points out Koncz. "One side looks like it needs an oxygen tank, while the other is ready to meet girls."
"They're young and they run fast," says Pacquiao during halftime of game two. "It's hard to run like them." Pacquiao, though the smallest man on the court, is still able to dart through defenses like a motorcycle maneuvering through Manila traffic.
When asked why they settled on Rios as an opponent, Koncz states that the styles are just what the doctor ordered for Pacquiao. "I think he's gonna show the world that he's not washed up and it'll be a very entertaining fight. Rios is the perfect candidate with style matchups, it's going to be very exciting as long as the fight lasts. I just felt that right now, out of all the opponents we had available, the style was the best for Manny and that's what Manny agreed on.
"The loss [to Marquez], he's not worried about that. We were winning the fight, got careless and got hit with a shot."
"I feel excited to fight again, to get back in the ring," said Pacquiao about the fight, which is still six months away. When asked for what he thought about Rios' style match-up, Pacquiao responded, "I don't know yet. I have to study his style if that fight goes through."
Pacquiao and his training team, headed by Freddie Roach, will set up camp in September in Pacquiao's hometown of General Santos City. The irony is that Pacquiao will be training for a multi-million dollar fight in the same neighborhood where he once slept on dirt floors and sold cigarettes to survive. Koncz says that training in Manila or Baguio, where he held many of his camps from 2009-2012, is infeasible due to the crowds.
In GenSan, where Pacquiao trained for three weeks prior to his last bout, the hometown crowd respects his privacy during training sessions. He also has a home there, which, of course, has an indoor basketball facility for post-workout games.
As halftime approaches, staff at the facility alert Koncz that the court is only rented up until six p.m., which is just moments away. Pacquiao signals to continue with the game, and Koncz handles business to keep the game going for another hour.
The Rios fight will be Pacquiao's first with additional performance-enhancing drug (PED) testing. The issue of random testing in addition to the standard urinalysis administered by state commissions has become a hot button subject in the sport in recent years, beginning with Floyd Mayweather Jr's demands that Pacquiao submit to additional testing with the United States Anti-Doping Agency (USADA). After intense negotiations, Pacquiao agreed to do additional testing, but the fight never materialized.
Bob Arum, who promotes Pacquiao and Rios under the Top Rank banner, told Lem Satterfield of RingTV.com that the fighters would submit to testing through the Voluntary Anti-Doping Agency (VADA), which Top Rank recently used for Timothy Bradley vs. Ruslan Provodnikov and Nonito Donaire Jr. vs. Guillermo Rigondeaux.
The testing comes after many in the media suggested that Marquez had gone through impressive physical changes leading up to the fourth Pacquiao clash after employing the services of former BALCO chemist Angel Hernandez. Both Marquez and Pacquiao passed the standard Nevada-administered post-fight tests.
"It's really important because, you never know, some fighters use drugs," said Pacquiao. "It's really important to have drug testing." When asked whether he thought any of his former opponents had used PEDs, Pacquiao responded, "I don't know; I'm not judging."
After leading for much of the game, the younger "home" squad is beginning to flounder as Pacquiao's team ties up the score at the end of regulation. The pace slows down after a pair of Pacquiao lay-ups give his team a lead, and it becomes a free-throw contest for the final minute or two of overtime. At least in this contest, experience overcomes youth, as Pacquiao's team wins 121-119 to complete the sweep. - AMD, GMA News