Manny Pacquiao and the FIGHT that has eluded him…
An Article by Ace Freeman dtd 02Nov.2010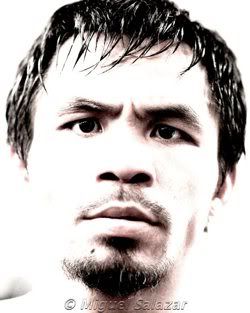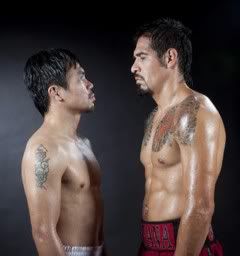 Photo: Miguel Salazar
Manny Pacquiao is everything that is good about the sport of boxing as we sit in these most sour and cynical of times late in 2010. Despite the growing drum beat of boxing's demise in recent years, the sport is as strong as it's ever been at the elite level, with an active legend universally recognized as its figurehead. Surely the greatest Asian fighter of all time, Pacquiao carries the hefty label of actively fighting as one of the most revered boxers to ever lace up a pair of gloves. He now sits on the verge of winning a title in a record breaking EIGHTH weight class since debuting as a scrawny 106-pounder at age 16.

While he has become a titanic figure on the international sporting landscape he is once again set to play David to Antonio Margarito's Goliath this Nov. 13 at Cowboys Stadium in Texas when he will challenge the towering Mexican at junior middleweight. That is an unprecedented nine weight divisions from where the Filipino charge originated in 1995.

If you are a boxing fan there's no doubt you are familiar with the controversies surrounding this mega fight… but that is not what I'm here to talk about. Anyone interested in a kick at that can is welcome to look elsewhere for a plethora of analytical editorials about the fight.

What I'm here to talk about is the FIGHT, not just this particular matchup… but the underlying primal competition that pits man against man in physical combat.

I am a big fan of Manny Pacquiao, and like millions around the world he is one of the key reasons why I remain dialed in to the sport of boxing.

He is a fighter, and as he constantly reminds us with his penchant for very few words when he speaks publicly, his job is only to fight.

It is that primordial FIGHT that has for so long proved elusive to Pacquiao that is foremost on my mind as his next bout approaches.

I remember standing at the now infamous Wild Card Boxing Club in Hollywood in 2008 talking to Freddie Roach about his star fighter possibly eyeing fights with Ricky Hatton and Oscar de la Hoya.

With Pacquiao having just debuted at 135 pounds I specifically asked Roach if welterweight ambitions were just delusions of grandeur. He interrupted my question to assure me that that wasn't the case before flashing me his all knowing grin.

Just weeks after that conversation I sat ringside watching Antonio Margarito deliver a violent beating to Miguel Cotto in the sweltering Las Vegas heat. In the aftermath of that win Margarito loomed largely as a truly menacing figure, and it seemed unfathomable to think that Manny Pacquiao would ever be anywhere near that physical spectrum.

I sat in awe at the post fight press conference with a round table full of Mexican reporters. We were all still trying to process the violence we had just witnessed.

"Who can possibly stop Margarito? " they asked each other rhetorically with wide and exasperated eyes.

"There's only one man I can think of…" I replied with a coy smile, anxious to stir the pot.

They looked at me with growing suspicion.

"Manny Pacquiao…" I replied to a chorus of groans and eye rolling.

At the time I offered the suggestion merely jesting.

Fast Forward two years later and Ricky Hatton and Oscar de la Hoya lay battered and retired in Manny Pacquiao's rear view mirror.


For good measure, the Filipino phenom also dispatched welterweights Miguel Cotto and Joshua Clottey with relative ease.

Suddenly the thought of the former junior flyweight standing in with Antonio Margarito didn't seem so far fetched after all.

The boxing landscape has changed dramatically in a short period of time (as it often does).

Margarito was beaten badly by Shane Mosley and spent a year on the sidelines embroiled in controversy after his team was discovered trying to load his hand wraps before the January 2009 loss.

It is since that time that Margarito (who still maintains he had no knowledge of the aforementioned indiscretion) has returned as a junior middleweight.

Despite his fall from grace at welterweight he still remains a daunting physical challenge for the much naturally smaller Pacquiao.

In addition to to the tall order the bruising Mexican brawler presents, Pacquiao is also challenged with preparing himself both mentally and physically while the ever growing storm of activity in his personal life reaches an all time high.

Tugged from all angles by an ever growing entourage and an unlimited number of ventures in his native Philippines, Pacquiao is now an elected congressman in his country and has millions counting on him in that demanding role. All of this is in addition to carrying the heavy burden of fighting physically and figuratively for national pride with his bare hands.

As has become the norm when he is preparing for a fight, stories once again abound that suggest distractions are stalking Pacquiao at every turn.

Reports hint he was spread thin in the early part of his training while in the Philippines. Rumours of head colds and a minor foot injury had many whispering that the Philippines' national fist is behind the eight-ball in his training for this bout.

These rumours seem to surface every training camp and are just a few examples of the many cautionary tales that have surrounded Pacquiao for years now.

At the end of the day he has always found a way to distance himself on fight night. For it is in the eye of the hurricane that Manny Pacquiao has achieved his greatness.

The voices of the crowd fall silent and the hands constantly tugging from every direction fall by the wayside when he walks up those few steps and climbs between the ropes.

In a sea of change over the last decade the canvas beneath his feet is the one thing that has remained constant.

What was once a temporary escape from poverty and obscurity has now become a momentary pause from celebrity and adulation.

In the ring there is only the FIGHT.

It is the same fight that has been there all his life. It is that spirit of competition and physical combat that has seen Pacquiao rise to prominence over the last decade.

Despite everything on his plate and all the multi tasking, the FIGHT has always been his true calling.

While in recent years we have witnessed the maturing of the wild young brawler into a strategic master of his physical faculties, the hunger for pure combat has remained.

When we see Pacquiao and an opponent engaging in an exchange where both fighters give and take punches, one often notices him clasp both gloves above his head… seemingly inviting his opponent to continue their brief pursuit of trying to out-fight him.

It is a brief pursuit in every sense of the word… for any time they stand to fight with Pacquiao for an extended period of time they often end up hurt, dropped to the canvass, or on the verge of unconsciousness.

Pacquiao's recent rise through multiple weight classes has been all the more remarkable when taking that in to consideration.

Former undisputed light welterweight champion Ricky Hatton is a perfect example of the stern consequences of attempting to stand and fight Manny Pacquiao.

More recently, Miguel Cotto and Joshua Clottey can attest to the danger and resulting reluctance that come with such a daunting task.

These bigger men were unable and or unwilling to fight Pacquiao…. so the warrior pushes onward, moving up in weight yet again with the hope that someone will stand and pit their fistic prowess against his… punch for punch.



Photo: Top Rank Boxing / David Drebin
Surely, this is no secret to Antonio Margarito.

In fact, it may be music to his ears. The formidable Mexican is no stranger to a slug-fest. He is at his best when he is standing toe to toe with a willing opponent engaging in a fire fight.

Many of Pacquiao's fans worry (as passionate fans always do) that Margarito's physical advantages will result in the Pacquiao express finally running into the proverbial wall.

Some contend the Tijuana native is simply too big for Pacquiao to hurt, and too strong for him to absorb punches from.

Margarito and his fans have to believe that is true, because he is certain to stand in the ring with Manny Pacquiao as a fixed target who has little regard for head movement and defense.

In the last year I have expressed my firm belief that Pacquiao can do no wrong from this point on.

What he has accomplished to date is so extraordinary, a loss to such a naturally bigger man would be of little consequence in this scribe's opinion.

As I said before his fight with Miguel Cotto, I can no longer envision the phenomenal Filipino losing to a better man, only to a much bigger one.

Whether or not Antonio Margarito is that man remains to be seen. He too will enter the ring Nov. 13 looking for combat, and there is a very good chance he will leave it as just another victim.

One thing is certain…as Manny Pacquiao continues to defy the odds by taking on bigger and bigger opponents, sports fans will continue to tune in with great intrigue.

Perhaps one day Pacquiao will have tempted fate once too often and end up biting off more than he can chew. At the end of the day can anyone fault him? He is merely looking for the FIGHT that has eluded him all these years.
Promoted by Top Rank, in association with Cowboys Stadium, MP Promotions and Tecate, Pacquiao vs. Margarito will take place Saturday, November 13 in Cowboys Stadium in Arlington, TX. The $1.2 billion stadium is the largest, most technologically advanced entertainment venue in the world. Pacquiao vs. Margarito will be produced and distributed live on HBO Pay-Per-View, beginning at 9 p.m. ET / 6 p.m. PT.
Remaining Tickets to Pacquiao vs. Margarito are priced at $700, $500, $300, $200, $100, and $50, and can be purchased in-person at the Cowboys Stadium ticket office in Arlington, or by calling Ticketmaster at 800-745-3000. Tickets can also be purchased online at
http://www.ticketmaster.com
.
HBO's fast-moving reality series "24/7 Pacquiao/Margarito" returns with an all new episode next Saturday. The four-episode series chronicles the preparations and back stories of both fighters as they train for their November 13 pay-per-view showdown. Previous episodes are available on HBO ON DEMAND.
For Pacquiao vs. Margarito fight week updates, log on to
http://www.hbo.com
or
http://www.toprank.com
.
Ace Freeman can be reached at
ace@fightfan.com
_________________
Matthew 28:20
"I am with you always, even unto the end of the world."
Acts 20:35
"It is more blessed to give than to recieve."
Philippians 4:13
"I can do all things through CHRIST which strengtheneth me."