Azkals draw vs North Korea is a historic feat for PH football
Published 8:00 PM, October 08, 2015
The Azkals' scoreless draw against North Korea in Pyongyang ranks among the greatest results in Philippine football history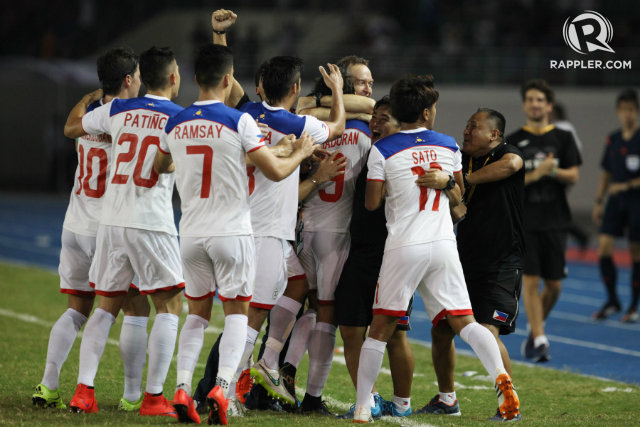 TOP DOGS. The Philippine Azkals showed they wouldn't be intimidated by playing in front of 50,000 loyal fans in Pyongyang. File photo by Josh Albelda/Rappler
MANILA, Philippines - The Philippines' courageous draw against North Korea was followed by fans on Twitter and FIFA's website, but its impact was as if people watched it live.
The Azkals' scoreless draw with World Cup qualifying Group H leader North Korea in Pyongyang ranks among the greatest results in Philippine football history. It erased the awful memory of a 1-5 rout by Uzbekistan in their World Cup qualifying match in the Philippines last September 8.
"Best news of the day," said Gene Lim, a former member of the national youth teams in the late 1960s, in a text message to Rappler.com.
"Fantastic result given we were playing in front of their hostile home crowd," texted Randy Roxas, head of the United Football League.
Mariano Araneta, president of the Philippine Football Federation, told Rappler.com in a phone interview that the draw was "an excellent result."
"We are still in contention for at least a slot in the Asian Cup qualifying," Araneta added.
The first time the Philippines played North Korea, they lost 0-2 in the 2012 AFC Challenge Cup in Kathmandu, Nepal.
With two wins, one draw and one loss, the Philippines has 7 points in Group H, where North Korea leads with 10 points. Uzbekistan, which plays Bahrain later, has 6 points. Bahrain has 3 points and Yemen is scoreless. The Philippines will play Bahrain in an away match on October 13.
"Wow! Isn't that a miracle, especially happening in Pyongyang?", texted Vic Sison, goalkeeper of the national team that reached the quarterfinals of the 1958 Asian Games.
An older generation of players remember North Koreans reaching the quarterfinal of the 1966 World Cup where they led Portugal 3-0 before the legendary Eusebio scored 4 goals and Jose Antonio added another to avoid a big upset.
"That's really amazing, North Korea being an Asian power. That is the first time for us to have drawn them and it has a good mark on Philippine football," said Consorcio Manreza Jr., former assistant national coach. "They have qualified for the World Cup and the Olympics a few times."
Norman Fegidero, the hero of the Philippines' Southeast Asian Games victory over Malaysia in 1991, said judging from the lineup, coach Thomas Dooley used a defensive formation, stacked with tall defenders.
The lineup shows the Philippines using 3 fullbacks, 5 midfield players and two forwards.
"Three will be holding midfield players and two, presumably Stephan Schrock and another one, will be moving up to support the attack and going down to help defend" said Fegidero in a phone interview. The defense was anchored by Neil Etheridge, whose two saves before regulation ended kept the game scoreless.
Fegidero said the North Koreans were expected to use their height and heft, hence the defensive lineup.
The team missed forward Javier Patinio, who had a hamstring problem. "Hopefully, he could be available vs Bahrain," said Araneta. – Rappler.com
http://www.rappler.com/sports/by-sport/football/108591-azkals-draw-north-korea-historic?utm_content=buffer6e736&utm_medium=social&utm_source=facebook.com&utm_campaign=buffer