At 20, David Alaba may already be best footballer ever with Filipino blood
Roy MooreMay 27, 2013 11:21pm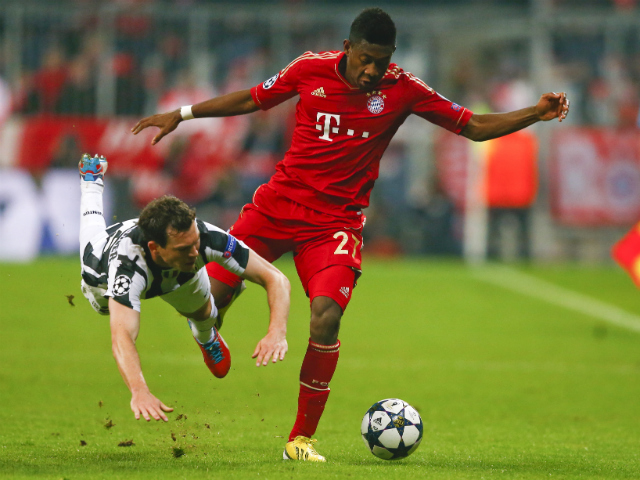 20-year-old David Alaba, who hails from a Filipino lineage, is a rising international star. Michael Dalder/REUTERS
At Wembley Stadium, London, on the night of May 25, Bayern Munich lifted their fifth UEFA Champions League title. Now the third most successful club in the competition's history, they are the European Champions and for this year, at least, the best club around.
On the biggest club football stage in the world, the Philippines was represented when David Alaba of Bayern Munich carried the Philippine flag in the post-match ceremony, along with those of Nigeria and Austria.
Alaba, a left back or holding midfielder, is the first player with Filipino blood to win the Champions League. It's clearly a huge step for Philippine football, and a joy to see someone with Philippine roots honor his heritage on such a grand stage.
A child of the Philippine diaspora, Alaba was born on June 24, 1992 to a Filipino mother, a nurse and a Nigerian father, a DJ and former rapper, in Austria.
Best Filipino footballer ever?
Some may balk at the suggestion, as Filipino-Spaniard Paulino Alcantara is still Barcelona's top scorer until Lionel Messi inevitably breaks his record of 369 goals in 357 appearances, but Alcantara's career began over a century ago.
Back then, the Spanish leagues were only just beginning, and there weren't as many games as there are now. In fact, most of Alcantara's goals came in friendlies, before he retired to become a doctor. Alcantara's achievements are impressive, but Alaba is almost certainly a better player given the vast physical and technical improvements in the game since the former's time, and Alaba is still only 20 years old.
Unfortunately for the Philippines, Alaba has already chosen to play for his birth country Austria, after going through the Under-17 and Under-20 youth system. Alaba represented Austria for the first time in 2009 at 17-years-old, making him the youngest player to ever represent Austria.
Alaba's record since has been impressive. He was the 2011 and 2012 Austrian footballer of the year, while still a teenager, and has since made 24-appearances with his national side, scoring three goals. With a Bundesliga title and a Champions League medal to his name, Alaba is well on his way to an unprecedented third footballer of the year award in a row.
National and European glory
Alaba's Champions League medal came against German rivals Borussia Dortmund, after beating arguably the best club in the world in the semifinals. Bayern thrashed FC Barcelona 7-0 on aggregate in the penultimate round, earning a 4-0 win in Munich, followed by a 3-0 win at the Nou Camp, Barcelona's own stadium.
The Nou Camp has seen only one other defeat this season in all competitions, a Copa Del Rey semifinal 3-1 loss to Real Madrid.
Indeed of their 60-game season, which finishes on June 1, Barcelona have lost only eight games. Fifteen points ahead of Real Madrid heading into their final match of the season, they are almost certain to break the biggest winning margin in La Liga history, 12 points.
Barca's accomplishments however, only serve to highlight Bayern's domination as they booked their ticket to the European Final at Barca's expense, by handing them their two heaviest losses of the season and their biggest loss for a decade.
And while Bayern's stars like Franck Ribery, Arjen Robben, Mario Gomez, and Thomas Mueller get most of the limelight, David Alaba was a huge part of that success. Playing every minute of Bayern Munich's knockout rounds, Alaba contributed two goals and two assists in the seven games, stifling the opponents' play to set up Bayern's.
From beating Arsenal on away goals in the round of 16, to beating Italian Champions Juventus 4-0 on aggregate in the quarters, and the infamous 7-0 aggregate humiliation of Barcelona in the semis, Alaba was there for every minute.
Alaba was also an integral part of the Bayern squad which dominated the Bundesliga with 29 wins, four draws, and a solitary loss in this campaign. Amassing 91 points, they have broken the records for the most number of points, most number of wins, least number of goals conceded, and the biggest winning margin between first and second place, finishing 25 points ahead of second-placed Dortmund. Bayern simply blew the competition out of the water.
Back from adversity
But it hasn't all been easy for Alaba, who missed the 2012 Champions League Final against Chelsea due to suspension, after picking up his second yellow card of the knockout rounds in last year's semifinal against Real Madrid.
In that game, the match went to a penalty shootout and Alaba scored Bayern's first penalty, to help his team win the shootout 3-1. If Alaba had been available for the Final, which Bayern went on to lose on penalties after dominating normal and extra time, maybe things would have been different.
After the summer break, preseason ended badly for Alaba, who suffered a stress fracture on his left foot during a friendly match in August and was out for two months. Alaba returned in an international game for Austria on the 16th of October, scoring in the 4-0 win over Kazakhstan. Four days earlier, and without Alaba in the line-up, Austria drew 0-0 against Kazakhstan.
Alaba came on as a substitute once and started 22-games for the German Champions after that, returning as a key player for Bayern Munich. And after Bayern topped their Champions League group, he played every minute of the knockout stages to help his team to the final, even scoring the seventh-fastest goal in Champions League history when he opened the scoring against Juventus in only 25 seconds.
In the Final, this time around, Alaba and Bayern weren't to be denied. A victim to late goals in previous finals, Bayern this time managed to find a goal in the 89th minute through Arjen Robben, to defeat Borussia Dortmund 2-1.
It may not be so long before a player of Alaba's caliber is suiting up for the Azkals. At the other end of the Bundesliga, German-Filipino Stephan Schrock, the highest-rated Azkal, and his Hoffenheim side escaped relegation with a 5-2 aggregate against Kaiserslautern.
While the Azkals are, of course, far off the pace of the likes of Austria and Germany, the Philippines has been the most improved country in the world for back-to-back years in the ELO ratings. Definite challengers for the 2014 AFC Challenge Cup, which sees the winner qualify for the Asian Cup, if this progress can be sustained, future players like David Alaba, may well opt to represent the Philippines.- DVM/HS/AMD/OMG, GMA News
http://www.gmanetwork.com/news/story/31 ... pino-blood
------------------------------------------
Great record at a very young age.
I wish to see this guy play along with Azkals in future tours.