Ir0nM4n wrote:
sixth sense wrote:
webgamer wrote:
you've got eagle eyes ts.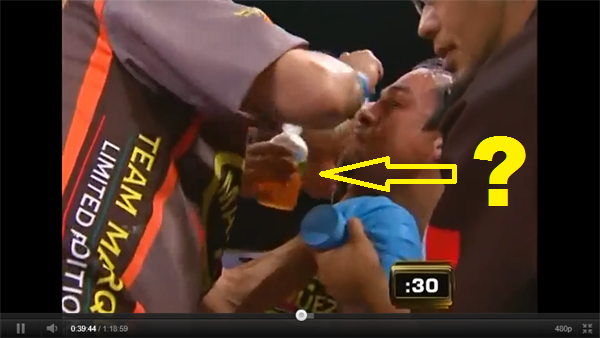 mukhang tubig lang ts.
tubig sa bowl ng cr.
NAC 467.437 Equipment of chief second. (NRS 467.030)
1. The chief second shall equip himself with:
(a)
A clear plastic water bottle;

<<<<<<<<<<<< UNCLEAR RULE. KEVIN IOLE SAYS ELECTROLYTES ARE ALLOWED IN NAC RULES.
(b) A bucket containing ice;
(c) A solution or product of a kind approved by the Commission for stopping hemorrhaging;
(d) Adhesive tape;
(e) Gauze;
(f) Scissors; and
(g) One extra mouthpiece.
2. No ammonia may be used in the ring.
3. The ringside physician or Commission's representative may, at any time, inspect the contents of the chief second's first-aid kit.
(Added to NAC by Athletic Comm'n, eff. 12-13-82; A 11-2-88; 12-2-97; R090-07, 12-4-2007)
here is the wbo rule # 28
http://www.wboboxing.com/regulations/
SECTION 28. DRUGS OR STIMolANTS
(a) The use of illegal or performance enhancing drugs or other stimolants before of during the Championship contest by any of the contestants shall be sufficient cause for the disqualification of the contestant guilty of said use. Onl
y plain water may be given to a contestant in the course of the bout.
Lubricants around the eyes is allowed in amounts within the Referee's discretion; the use of lubricants, or any other substance on a contestant's arms, legs and body is prohibited in Championship fights.
(b) The use of hemostats such as Thrombin, Avetine or Adrenalin 1/1000 solution shall be allowed between rounds to control the bleeding from minor cuts and lacerations sustained by a contestant as permitted by the roles and regolations of the Local Boxing Commission. If the Local Boxing Commission has no role concerning permissible hemostats, then only Adrenalin 1/1000 is permitted. Each contestant is obligated to know and comply with the roles and regolations of the Local Boxing Commission as to use of hemostats.
(c) The World Boxing Organization encourages all Local Boxing Commissions to conduct anti-doping tests before or after the fight. If the Local Boxing Commission conducts the tests, they shall be administered in accordance with the roles and regolations of the Local Boxing Commission.