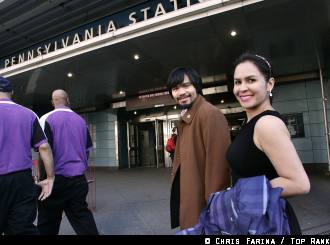 The truth hurts... but the couple seems to be in "camouflage" - projecting like the best movie actor and actress (probably next to the Arroyos) when they try to convey a 'good' image in the public eyes (but in reality, there's something wrong within). Filipinos feel it that the couple are 'HIDING' something... somewhat like a BOMB anytime soon to explode.
There's a BIG PROBLEM between the couple at present---- we know it.. and people feel it-- even if they try themselves to be 'still close and sweet' (trying to DECEIVE THE PEOPLE that they're ok? --- but an obvious 'acting' with plastic smile. so obvious. and we're sure it matters during his fight.
Jinky looks 'different' now.... far from simplicity. So as Dionisia. Pacquiao has been surrounded with 'wolves' and "lavish' people... ... whew... ... Pacquiao may be heading to destruction soon- if not corrected himself.
mmmmm... remember Englandan's song... "what comes up....must come down"
This is sports(boxing) forum, bro/sis, not showbiz central.
nice try.