Manny Pacquiao's Blueprint to Earn a Rematch with Floyd Mayweather
By Kelsey McCarson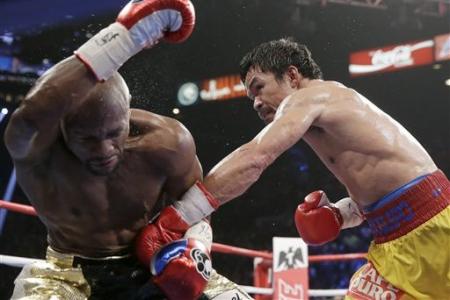 All his talk suggestsManny Pacquiao might still have undefeated, and currently retired, Floyd Mayweather on his mind. I wouldn't be surprised if Pacquiao, who lost to Mayweather by decision in 2015, wants another go at the biggest fight of his career. 
Could you blame him?
After the fight, Pacquiao lamented an injured shoulder kept him from fighting at his best that night, and the bungling of the World Anti-Doping Agency-approved cortisone injection he was denied before the fight that night because of clerical errors backs his story up.
As does his un-Pacquiao-like punch output on the evening. Raise of hands of those who saw Mayweather throwing more punches than Pacquiao that night.
Yes, Mayweather boxed Pacquiao's ears off, but deep down, even Mayweather must wonder how he would have stacked up to Pacquiao that night had his rival been allowed to fight unfettered by injury.
Knowing what we know now, it would have been better had Pacquiao just delayed the fight. Everyone would have been angry, but aren't we all even moreenraged for not getting our money's worth?
We waited six years for that mess?
But as of right now, Pacquiao has no real contention that Mayweather should come out of retirement and give him another go. Pacman's short-lived retirement didn't help paint the picture of a dedicated fighter looking to take on the toughest challenges out there.
Honestly, his selection of Jessie Vargas as an opponent doesn't either.
But Vargas could be part of the puzzle pieces Team Pacquiao and promoter Bob Arum could put together to make Mayweather-Pacquiao 2 at least palatable to Mayweather and, even more importantly, boxing fans.
First, Pacquiao needs to look as good as he looked against Timothy Bradley in April. Like it or not, Pacquiao sans shoulder injury is a force to be reckoned with in a boxing ring. Bradley was dismantled that night, and if Pacquiao could at least throw more punches with both hands, he would give a better effort than he did against Mayweather the first time.
Vargas is a very good fighter, but Bradley is probably more skilled in most areas. It showed when the two fought last year. Bradley outboxed him over the course of 12 rounds but was hit with a hellacious punch that put him in a daze before he escaped the final few seconds of the fight to secure the win.
But Pacquiao? Vargas is exactly the type of fighter Pacquiao excels against. He's slower than Pacquiao, less skilled and should be mostly a brave, but overmatched, punching bag that night.
The win would net Pacquiao the WBO strap, but Mayweather held a total of five lineal championships in his career. Pacquiao's win over probably the sixth or seventh current welterweight in the world just wouldn't probably move needle.
Oh, but there is Terence Crawford out there. Crawford, also promoted by Arum, is one of the top fighters in boxing. He's the lineal junior welterweight champion, and he looks like the next great American boxer. He may already be one now.
Crawford wants to be Mayweather and Pacquiao's successor. He looks the part. He's been a force at 135 and 140, and it isn't hard to envision him as a great welterweight soon. 
But Crawford has never faced a fighter as good as Pacquiao. A bout between the two makes sense for both men, and while most would favor the younger fighter in the potential passing-of-the-torch bout, Pacquiao is right now still one of the best boxers in the sport.
In fact, both Pacquiao and Crawford are listed among Bleacher Report's top 10 fighters at any weight. One of our writer's, Lyle Fitzsimmons, even voted Crawford as No. 1 overall. A win for Crawford would move him toward his quest to be the superstar successor he sees himself becoming.
But as Mayweather suggested recently to FightHype.com, it would not be easy. Let's face it. Nothing great ever is easy, and it shouldn't be. 
And for Pacquiao, if he truly does want to get Mayweather back in the ring for a rematch, a win over Crawford would be something no one could ignore, and it could very well lead to Mayweather-Pacquiao 2, boxing's superfight of a century that could really use a redo.