Sab wrote:
sondo777 wrote:
Sab wrote:
Bradley will win no doubt in my opinion. UD.
Pacquiao will going to have a hard time catching Tim.
Those right jabs will be the main factor as the bread
and butter of Bradley in winning every round.
Right Jab ?
so ibig mo sabihin kaliwete din si Tim Bradley?
sa huli kong panood ang stance ni bradley ay orthodox
hehehehe very intelligent opinion,ito ba sinasabi mong right jab ?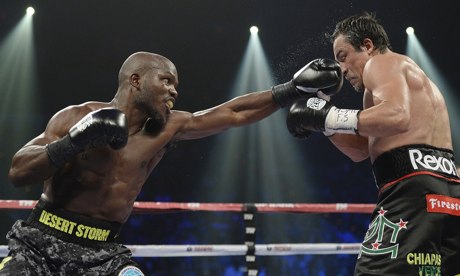 Sorry, should be right lead punch and jabs, and thanks for correction.
Still bradley will win no doubt,
Walng pikunan.
Oo naman walang pikunan, wala din pahiyaan.
ang mahalaga, marunong tumanggap ng pagkatalo...so pusta mo si bradley?
pag natalo ba, tatanggapin mo at walang excuses?
pag natalo si manny, dapat tanggapin din natin...
di ka naman siguro katulad nila blackwater at el critico na pinaninindigan ang mga baluktot nilang opinyon para mapagusapan lang dito sa paclan ?
Ok ba tayo dun sir ?