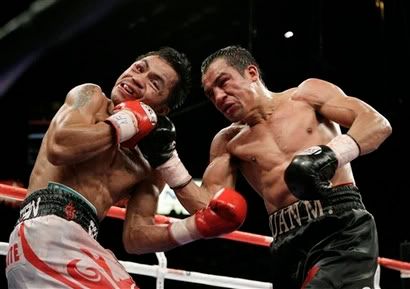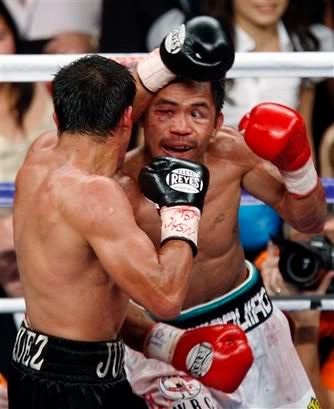 2008-03-15
A third bout between lightweight champion Juan Manuel Marquez and pound for pound best Manny Pacquiao seems to be a foregone conclusion.
With the boxing world buzzing for a November showdown between the pair, Marquez revealed his battleplan.
"You have to match his rhythm," said Marquez. "You have to match his speed with speed and when he throws punches, you have to counter-punch with the same velocity."
A prime Manny Pacquiao will be a tough row to hoe for a 38 year old Marquez - he will celebrate his 38th in August of this year.
And though Marquez has been in two tooth and nail encounters with Pacquiao, owning a draw and split decision loss, along with suffering four knockdowns, the future Hall of Fame member admits the Filipino has improved his game since their last fight in 2008.
http://www.examiner.com/latino-boxing-i ... ao-rematch