Curry vs Jordan ... !!!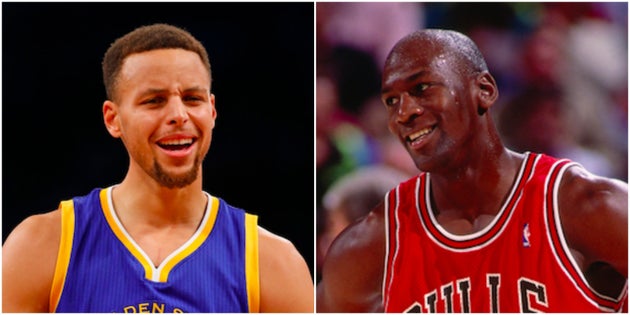 "In terms of who would come out on top, Chicago or Golden State, Curry was quick to hedge — "It's hard to compare the teams," "it's an impossible debate," "we want to keep getting better" — but in terms of who would best the other, him or Jordan, in the contest's final moments, Curry was just as quick to provide the play-by-play of how exactly he would beat No. 23.
"Right to left, step back. I knock it down," Curry said, referencing a move he executes and a jumper he hits virtually every night these days.
That's a striking prediction when you remember that Jordan has been considered untouchable for about two decades now. But Curry went even further, questioning even Jordan's seemingly innate ownership of the title of Greatest Of All Time.
"It's a high mountain to climb, but I'm pretty motivated to take on the challenge," he told Alipour. "Whatever that means, however you got on that mountain, why not try to climb it? … Why else would I be playing [if not to try to top Jordan]?"
"You want to be the best you can be. And if the best you can be is better than him, then why not?" he added.
Claiming yourself to be better than or simply in the same conversation as Jordan is effectively blasphemous in certain NBA circles. But if anyone could get away with it right now, it's this guy: the man with the handles and the jumper, No. 30 in blue and gold — reigning MVP Stephen Curry."
Link:
http://www.huffingtonpost.com/entry/stephen-curry-michael-jordan-matchup_us_56670795e4b08e945ff0f6d6