Bulawan, Tuadles, Marata, Cuenco and other PBA players who had 'gone too soon'
From: Rhoel V FernandezJuly 4, 2016, 05:53 pm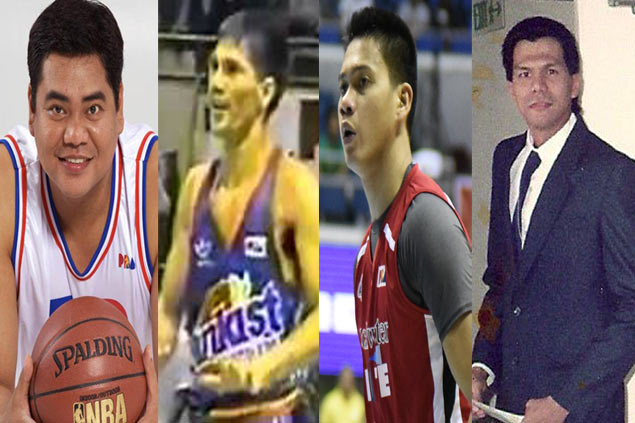 Bryan Gahol, Ricric Marata, Gilbert Bulawan and Rey Cuenco remain in the memory of fans long after their demise.
AFTER the untimely demise of 29-year old Blackwater center Gilbert Bulawan during the team's practice, we are reminded once more of PBA players who have gone too soon.
Bulawan goes down as the first PBA player to die while still in a team's active roster. He was also the first to pass away either during practice or an actual game. But there are a number of former pros who died before their time.
Former Purefoods center and the No.1 overall selection 1988 PBA draft out of Far East University, Edgardo 'Jack' Tanuan, was only 36 years old when he succumbed to a lingering kidney disease, only five years removed from the 6-5 center's last pro campaign with the Alaska Milkmen.
PBA fans of the '80s and early '90s would remember Rey Cuenco as an intimidating presence in the paint who blossomed under the guidance of Ginebra coach Robert Jaworski.
The 6-4 big man from Pampanga was also picked No.1 overall in the PBA by Alaska but would see his best years with the Ginebra franchise, earning him the PBA Most Improved Player award in 1990. He would also see action in the 1990 Asian Games in Beijing. A liver ailment would claim his life six years later. He was 36 at the time of his death.
A former PBA player and UP Maroons star, Bryan Gahol had a six-year stint in the pros that was hampered by injuries, resulting in a journeyman career with four different teams. He successfully ran for councilor in Laguna in 2010. In 2014 after his PBA career.
Gahol was in a passenger van on the South Luzon Expressway en route to a wake when it figured in a multiple vehicle collision. He and a female passenger were killed in the ensuing accident. He was 37 years old.
Gido Babilonia saw action for a number of good teams in his 40 years. After helping the University of Santo Tomas dominate the UAAP, the 6-6 center mostly was a steady back up for the likes of Benjie Paras and Jerry Codinera in his 10-year PBA career. He also played in briefly in the Metropolitan Basketball Association (MBA).
His professional career ended after 12 seasons after being diagnosed with a heart condition. In January 2007, the University of the East assistant coach was rushed to hospital after complaining of chest pains. The 40-year old Babilonia died after two days from a pulmonary blood clot rupture.
Arnie Tuadles was a familiar name to longtime PBA watchers. The 6-2 combo forward was Rookie of the Year in 1979. He was one of the original names of the Alaska Milkmen. In 1990, he became the first player to win two PBA championships with two different teams in one season, winning a title for Shell before shifting to Presto in the middle of the Second Conference. He spent 13 seasons in the PBA, suiting up for seven teams.
After retiring in 1992, Tuadles tried his hand at politics and business but to no avail. In a much publicized case, the 40-year old Tuadles was murdered by Games and Amusement Board (GAB) chairman Ambet Antonio during a card game in 1996.
A nine-year veteran of the PBA wars, Ricardo 'Ric-Ric' Marata is fondly remembered as a smiling spitfire from Iligan City. The 5-7 point guard played 397 games for five franchises in the PBA. After retiring in 1997, the uncle of Alaska's Cyrus Baguio migrated to the US with his family. In 2010, the 45-year old Marata died from complications after intestinal surgery.
Although not a PBA player, Carl Jimwell "CJ" Servillon, played with as much passion as his older peers. A high school player in the junior varsity squad of Jose Rizal University (JRU), the 17-year old collapsed during a timeout in a May 2015 preseason game. He was rushed to hospital but failed to recover, dying two days after.
Read more at
http://www.spin.ph/basketball/pba/special-reports/gilbert-bulawan-untimely-deaths-pba-basketball#OJkT6b1mOmAArvjr.99