Yves Sazon posts double-double as Marikina routs Gensan in smashing MPBL debut
From: Christian Jacinto June 12, 2018, 10:28 pm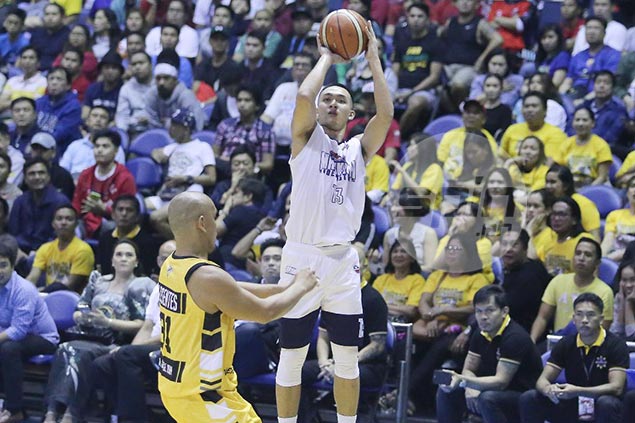 Marikina's Yves Sazon torched Gensan for a game-high 33 points. Marlo Cueto
MARIKINA came out firing in its debut in the Maharlika Pilipinas Basketball League (MPBL) as it ran through General Santos 88-81 in the opener of the Anta Datu Cup on Tuesday at the Smart Araneta Coliseum.
Yves Sazon proved head and shoulders above everyone as he scored 33 points on 6-on-11 shooting from the field to go along 10 rebounds, four assists, a steal and a block in 36 minutes of action.
The Philippine Christian University star led a 33-12 attack in the second quarter, draining three treys in that stretch as Marikina opened a 49-33 lead at halftime and never looked back.
Ex-Pro Erwin Sta. Maria and San Sebastian stud Alvin Baetiong finished the job from there, never allowing the Warriors to get closer than seven points.
"Yung mga players kasi may kaunting nerbiyos. Most of them, ngayon lang nakalaro sa ganitong level," said Marikina head coach Elvis Tolentino.
On Sazon, Tolentino said: "He knows what I want. Siya lagi ang example sa mga bago. Sabi ko sa kanya, tira lang. Kung malas siya, ako na bahala mag-adjust."
Sta. Maria added 18 points and seven rebounds as Renato Ular added 11 points and 15 rebounds in the win.
Actor Gerald Anderson's highly anticipated debut in the league was delayed as the actor explained that he was out with a hamstring injury.
Leomar Losentes finished with 18 points and six assists for the Warriors, whose team is mostly composed of players from Golden State Colleges in GenSan.
Christopher Masaglang added 17 points while John Orbeta had 15 in the loss.
The scores:
Marikina 88 - Sazon 33, Sta. Maria 18, Ular 11, Sang 7, Mescallando 7, Ybanez 5, Baetiong 4, Do 3, Gonzalez 0, Roy 0, Bautista 0, Mendoza 0, Butel 0, Catipay 0,
General Santos 81 – Losentes 18, Masaglang 17, Orbeta 15, Mahaling 10, Yusop 6, Vijandre 5, Basco 4,Demafelis 3, Villaruel 2, Goloran 1, Bartolo 0, Clavel 0, Morada 0, Rancho 0, Autor 0,
Read more at
https://www.spin.ph/basketball/news/mar ... T7EeVAF.99