As 2006-2007 season starts, here are the updates…
SPURS WON OPENING GAME AGAINST MAVS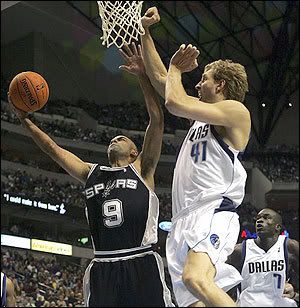 DALLAS, Nov. 2 (AP) -- Tony Parker was sore and Tim Duncan was struggling. Yet there was no way the San Antonio Spurs were giving up, not after six months of waiting to reclaim their edge over the Dallas Mavericks.
Parker shook off a sprained ankle to score 19 points and Duncan scored only 13 points but had a key rebound and putback in the final minute of the Spurs' 97-91 victory Thursday night in the season opener for both Western Conference powers.
San Antonio trailed for most of the first three quarters, but never by more than 10 points. The Spurs charged ahead over a 6:13 span in which they held Dallas without a point, then protected it down the stretch with good defense and the same kind of errant shooting by the Mavs that doomed them in their last games that counted - their four straight losses to Miami in the NBA finals...
For full story and Box Score:
http://www.nba.com/games/20061102/SASDAL/recap.html
Other link:
http://forum.philboxing.com/viewtopic.php?t=52112
============================================
Cavaliers End San Antonio Skid in Style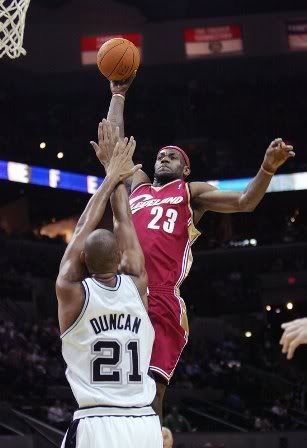 SAN ANTONIO, Nov. 3 (AP) -- LeBron James dunked over Tim Duncan with a snarl, an early statement of a rugged night. And by the time it was over, the Cleveland Cavaliers got out of San Antonio with their first win in the Alamo City since 1988.
James scored 35 points, hitting a key layup and free throw late in the fourth to help snuff a San Antonio rally and lead the Cavaliers to an 88-81 victory Friday night…
Source:
http://www.nba.com/games/20061103/CLESAS/recap.html
============================================
Next stop, Toronto!
Spurs Win Battle of Big Men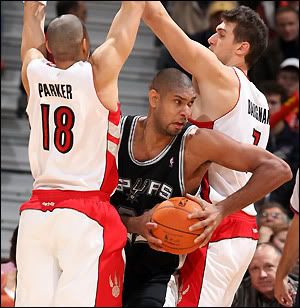 TORONTO, Nov. 5 (AP) -- Tim Duncan showed that he's regained his health following a season of battling plantar fasciitis.
He scored 26 points and Tony Parker added 19 to lead the San Antonio Spurs to a 103-94 victory over the Raptors on Sunday.
Hobbled last season by plantar fasciitis, Duncan averaged a career-low 18.6 points and 11.1 rebounds.
"He came into training camp proclaiming himself ``100 percent'' fine. Duncan used his quickness and spin move against Toronto, something that wasn't always there last season.
Source:
http://www.nba.com/games/20061105/SASTOR/recap.html