fair yan siya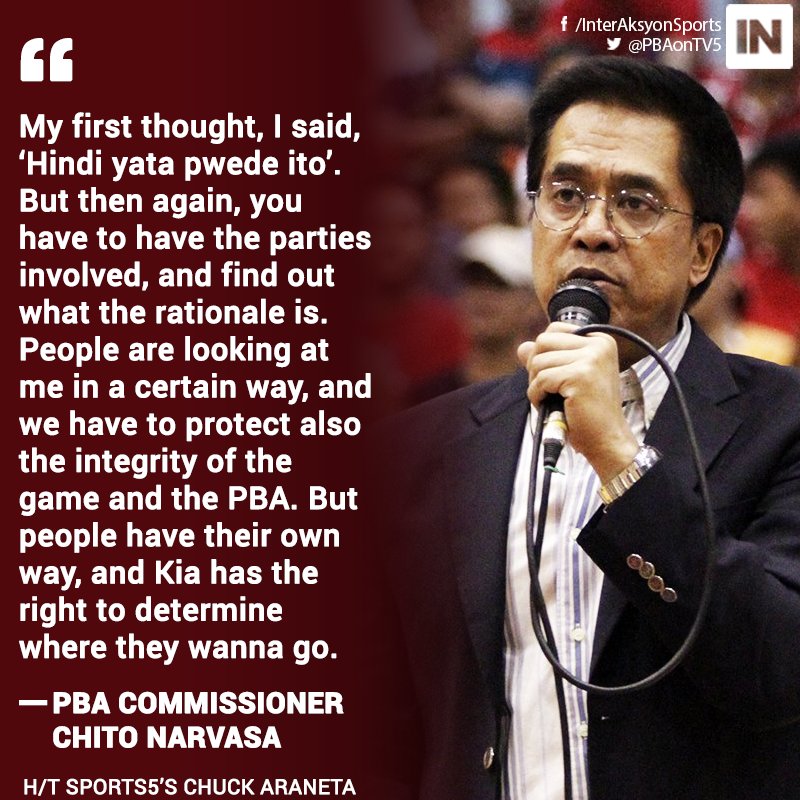 go Comm. Narvasa
Very weak & poor reasoning as PBA commissioner.Ridiculous indeed.
Narvasa is now giving a hint that he'll approve the Kia - SMB conspiracy.
Kia has the right to determine where they wanna go? Maybe right.
But as the PBA top honcho, they need your approval before any deal must prosper.
Kia's acts lately show that they can't afford to maintain a decent team in the league,
They got Gregorio, Caneleta, Ramos, Mallari,etc. before but they kicked them out
& i believe one of the reasons could be the salary cap,
This goes to show their incapability to maintain a competetive team to win a ring.
Kia was only after hype & advertisement for their product even getting Pacquiao to achieve it.
If Narvasa will approve the deal, he'll be insulting the intelligence of the other teams & the fans.
SMB has 4 players in the Mythical Five suggesting the obvious strength of their club,
Then still in hunger to land the first pick in Standhardinger? Using its connection to claim it?
If Kia isn't capable of building a competetive team, then better to ban it from PBA membership.
Let the other qualified companies/clubs to join the already imbalanced league,
This is if Narvasa has the courage to defend the rights of the PBA fans to watch combatived games,
And if he won't succumb to the power of the rich owners & the BOC like welcome gift.
Just sayin' & i could be wrong in my opinions so my apologies.