kung hindi ako nagkakamali, eto daw si Andaya ang nanigaw sa telepono sa isang Cabinet Sec. regarding the 2019 govt budget, where the House Majority Leader insisted on their P50B "insertion"(?)
if the case goes all the way to conviction, siya ang nagsaing pero hindi niya makakain
Raps filed vs. Andaya over alleged non-disclosure of properties in SALN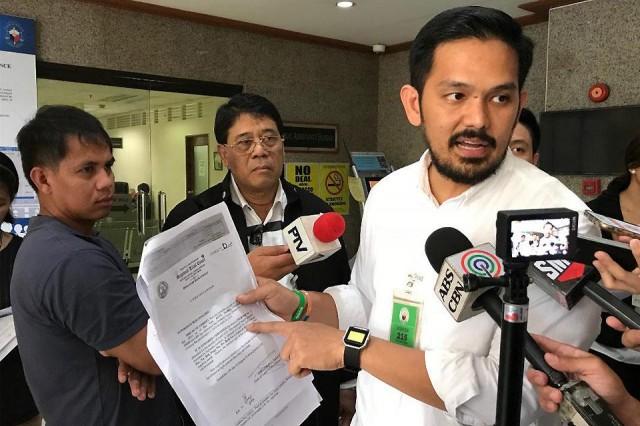 GMA News wrote:
A coalition led by Presidential Anti-Corruption Commission (PACC) commissioner Greco Belgica on Tuesday filed a complaint against House Majority Leader Rolando Andaya for allegedly failing to disclose several properties in his Statements of Assets, Liabilities, and Net Worth (SALN).

The Truth and Justice Coalition charged Andaya for violation of the Anti-Graft and Corrupt Practices Act, violation of the Code of Conduct and Ethical Standards for Public Officials, perjury, and falsification before the Office of the Ombudsman. His wife Marissa Lourdes is also named respondent.

Additional administrative charges of serious dishonesty and grave misconduct were filed against Andaya.

Belgica said the lawmaker did not declare nine real properties, their business interests in Noy and Ning's Corporation, and his ownership of P4.96 million worth of firearms.

"Marami ho siyang hindi na-declare, mga baril, may mga sasakyan, so iyan may mga properties. Lahat po iyon we saw na hindi na-declare nang maayos," Belgica said.

"Okay lang naman na mayaman ka, importante na na-justify mo yung pinagkunan mo ng pera."

GMA News Online has already sought comment from Andaya, but he has yet to reply as of posting time.

Undervalued, inconsistent, unjustified

Belgica said the motor vehicles listed under Andaya and his wife's name were undervalued as the lawmaker claimed these were only worth P2 million. He said evidence suggests the couple's registered vehicles is around P12.545 million.

In his complaint-affidavit, Belgica said Andaya's declared cash asset of P5 million seemed to be inconsistent with the numerous travels he and his family made between 2015 to 2017, including trips to the United States, Qatar, and Japan.

Belgica said these travels are unjustified considering that Andaya only declared his stock ownership in three corporations as his other source of income and no active businesses.

He further claimed the SALNs of Andaya were falsified when the two documents had the same declared properties, liabilities, and notarial details.

"It is very unlikely, if not impossible for this amount to remain the same. If indeed, the amount remained in the bank, it would have, at the very least earned some interest income. Respondents thus failed to make this declaration," Belgica said.

Belgica urged the Ombudsman to indict Andaya at the proper court and dismiss him from government service if he is found guilty of the offense.

Belgica hinted his coalition would sue at least 15 other government officials in the coming weeks, including congressmen, senators, mayors, and former Cabinet secretaries.