pobreng retarded wrote:
:lol:
parang kausap ko lang si mang gorio, pag nakakita ng 'christian' eh nag wawala at post ng post ng mga spam quotations or posts. pikunin kasi.
kung mali pa rin sa tingin mo ang 1987 Constitution, eh ano yung sinasabi ng SC sa decision nila on RA 9522's constitutionality wherein it says there is no law that abandoned the claim on Sabah, confirming that RA 5446 is still a valid law. kaya pa ulit ulit kong sinasabi, kung ang 1987 Constitution ay nagsasabi na nag give up na ng claim ang Sabah kasi nga dahil sa sinasabi mong 'ambiguity' ek ek mo, eh bakit sabi ng SC, and I quote:
Quote:
Statutory Claim Over Sabah under RA 5446 Retained
Petitioners argument for the invalidity of RA 9522 for its failure to textualize the Philippines claim over Sabah in North Borneo is also untenable. Section 2 of RA 5446, which RA 9522 did not repeal, keeps open the door for drawing the baselines of Sabah:
Section 2. The definition of the baselines of the territorial sea of the Philippine Archipelago as provided in this Act is without prejudice to the delineation of the baselines of the territorial sea around the territory of Sabah, situated in North Borneo, over which
the Republic of the Philippines has

acquired dominion and sovereignty
. (Emphasis supplied)
kita mo gamit na mga words: retained, acquired dominion, sovereignty.
eh Republic Act lang yan. kung valid yang "ambiguity claim" mo, dapat sinabi na ng SC na tama ang mga naghain ng complaint against RA 9552, na inabandon na nga ang claim on Sabah conforming to the Constitution. kasi nga mas mataas ang Constitution over any law, including Republic Acts.
the mere fact na VALID ang dalawang RAs, 9552 and 5446, mean nag co conform ito sa Constitution na still nag ke claim ng Sabah as part of our sovereignty.
I mean, do I have to explain these things, napaka elementary naman ng english dyan, sus kahit mga nasa kindergarten kaya mag interpret nyan.
well, unless you are a kindergarten amaeteur.
wahahahahahaha mali mali pa ang isfeling ng self-proclaimed professional retarded
hindi marunong magbilang
hindi marunong magbasa
hindi rin marunong sa isfeling hihihihih.......Bingo!!!
bakit kaya ang lahat ng sinabi niya, e nasagot na ng mga sinabi ko?
is it any wonder then, why this retard has been desperately trying to prevent me from reposting my posts?
again, let us see what I have been saying all along hihihih...
Lord Pelu wrote:
the SC decision made in 2011, interpreted favorably for the country on the ambiguity created by Santa Cory's blatant attempt to renounce the claim.....does this erase Santa Cory and her henchmen's attempts to finally abandon the Sabah claim? .....the SC deserves patriotic praise for its interpretation of the wordings of the 1987 Constitution with its notorious "omission" admitted by Bernas himself
, certainly.....but to absolve Santa Santita because of this SC decision? hihihihihih you must be a Dilawang uto-uto ak ak ak
meron nga bang "ambiguity" sa 1987 Constitution, o baka naman wala according to the resident Pacland retard hmm?
saan ba yan nag-umpisa kasi? hihihihih
Quote:
It came to light that as our Sabah claim gained international prominence during the early 1960s we were asked, "If Sabah is really yours, why is it that it does not even appear in the records of the 1935 Philippine Constitution?"
and so
1973 Constitution wrote:
"all other territories belonging to the Philippines by historic right or legal title"
but this happened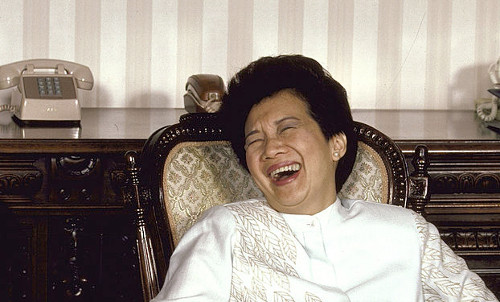 so
1987 Constitution wrote:
deleted
to justify the ambiguity they themselves created in the 1987 Constitution
Fr. Joaquin G. Bernas, S.J. wrote:
"The validity of our territorial claims does not rest on constitutional sanction but on our historic rights……" "…….on the other hand, would a constitutional definition of territory have the effect of legitimizing a territorial claim not founded on some legal right protected by international law ?"
ayan naman pala, yung mismong Consitutional Commission member, the renowned constitutionalist and shall we say, Coryista-extraordinaire, Fr. Joaquin Bernas S.J, explained their notorious "omission" that created such "ambiguity" in the 1987 Constitution hihihihih....eh ano pala yung sinasabi nung mismong gumawa ng text ng Constitution na yan, imahinasyon lang niya? wahahahaha.......and when was this perpetrated, this omission? 1987
fast-forward to 2011, at ang mga uto-utong Dilawan, as expected now wants to erase this dastardly act
hihihih by riding on the Supreme Court's patriotic interpretation of the existing ambiguity in the Cory Constitution..........lumang style na yan tsk
ang kagandahan ng isang sound and true argument, kahit ano pa ang ikontra, it can stand on its own, ang sarap ulit ulitin hihihihihihih
Lord Pelu wrote:
the SC decision made in 2011, interpreted favorably for the country on the ambiguity created by Santa Cory's blatant attempt to renounce the claim.....does this erase Santa Cory and her henchmen's attempts to finally abandon the Sabah claim? .....the SC deserves patriotic praise for its interpretation of the wordings of the 1987 Constitution with its notorious "omission" admitted by Bernas himself
, certainly.....but to absolve Santa Santita because of this SC decision? hihihihihih you must be a Dilawang uto-uto ak ak ak