iba na naman ang tema ng todo-paliwanag ngayon
nung una pabagobago daw, tapos paulitulit naman, pabagobago na naman.....ngayon paulit ulit na naman in short nanglabel ng "spamming" hihihihihih
insinuation ? hihihihihih pakisabi naman kay Fr. Joaquin Bernas yan, nagtodo-paliwanag pa ang lolo to explain their omission
duda ko Loyalista talaga yang isang yan, naka-disguise lang na Coryista wahahaha
"spamming" ba ang pagpapakita ng tutoo, yun lang ayaw maisiwalat ang katotohanan ang mahilig pumigil sa pagsasabi ng tutoo hihihih....tignan mo nga, ikaw kung anuano na ang approach, kung anuano na ang pinagsasabi.......but everything that you say can always be answered by my original posts
so dahil wala ka na maisagot sa position ko you'll cry "spamming" just to avoid being confronted with something you obviously cannot refute,............
Quote:
It came to light that as our Sabah claim gained international prominence during the early 1960s we were asked, "If Sabah is really yours, why is it that it does not even appear in the records of the 1935 Philippine Constitution?"
and so
1973 Constitution wrote:
"all other territories belonging to the Philippines by historic right or legal title"
but this happened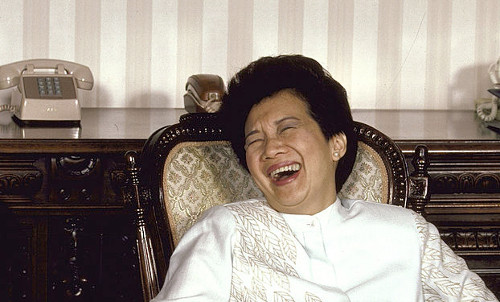 so
1987 Constitution wrote:
deleted
to justify the ambiguity they themselves created in the 1987 Constitution
Fr. Joaquin G. Bernas, S.J. wrote:
"The validity of our territorial claims does not rest on constitutional sanction but on our historic rights……" "…….on the other hand, would a constitutional definition of territory have the effect of legitimizing a territorial claim not founded on some legal right protected by international law ?"
Lord Pelu wrote:
the SC decision made in 2011, interpreted favorably for the country on the ambiguity created by Santa Cory's blatant attempt to renounce the claim.....does this erase Santa Cory and her henchmen's attempts to finally abandon the Sabah claim? .....the SC deserves patriotic praise for its interpretation of the wordings of the 1987 Constitution with its notorious "omission" admitted by Bernas himself
, certainly.....but to absolve Santa Santita because of this SC decision? hihihihihih you must be a Dilawang uto-uto ak ak ak
I think everything has been very clear here already, as clear as this post of mine a few pages back
in short it's time for a "recap" now
Lord Pelu wrote:
Dropping of Sabah Claim
Marcos, 1977.......negotiating ploy, did it push thru?
Ninoy, 1983......scheme of a very ambitious politician, didn't push thru because tinigok
Cory, 1987......."1987 Constitution"