hihihihih pinapahaba na lang ang agony wala na kasing masabi ang profeysiyunal imbetard kawawa
yung isa naman lunok lang ng lunok ng nilalalabas na ebs nung isa mas kawawa talaga hihihihih
and so this is going to be another shameful recollection of Santa Santita Cory's legacy
Quote:
It came to light that as our Sabah claim gained international prominence during the early 1960s we were asked, "If Sabah is really yours, why is it that it does not even appear in the records of the 1935 Philippine Constitution?"
and so
1973 Constitution wrote:
"all other territories belonging to the Philippines by historic right or legal title"
but this happened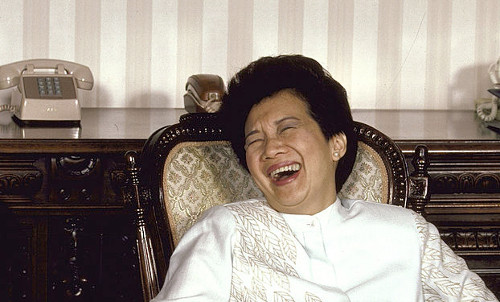 so
1987 Constitution wrote:
deleted
to justify the ambiguity they themselves created in the 1987 Constitution
Fr. Joaquin G. Bernas, S.J. wrote:
"The validity of our territorial claims does not rest on constitutional sanction but on our historic rights……" "…….on the other hand, would a constitutional definition of territory have the effect of legitimizing a territorial claim not founded on some legal right protected by international law ?"
but then the SC decided on RA 9522 in 2011, which thankfully interpreted the ambiguity in favor of the nation...which Coryista supporters took advantage of to whitewash their idol's shameful action
Lord Pelu wrote:
the SC decision made in 2011, interpreted favorably for the country on the ambiguity created by Santa Cory's blatant attempt to renounce the claim.....does this erase Santa Cory and her henchmen's attempts to finally abandon the Sabah claim? .....the SC deserves patriotic praise for its interpretation of the wordings of the 1987 Constitution with its notorious "omission" admitted by Bernas himself
, certainly.....but to absolve Santa Santita because of this SC decision? hihihihihih you must be a Dilawang uto-uto ak ak ak
and so we have this summary now
Lord Pelu wrote:
Dropping of Sabah Claim
Marcos, 1977.......negotiating ploy, did it push thru?
Ninoy, 1983......scheme of a very ambitious politician, didn't push thru because tinigok
Cory, 1987......."1987 Constitution"
thanks for reading everyone hihihihih