2 respondents in Espinosa, Lim case already dead
Kristine Joy Patag (philstar.com) - April 3, 2018 - 12:08pm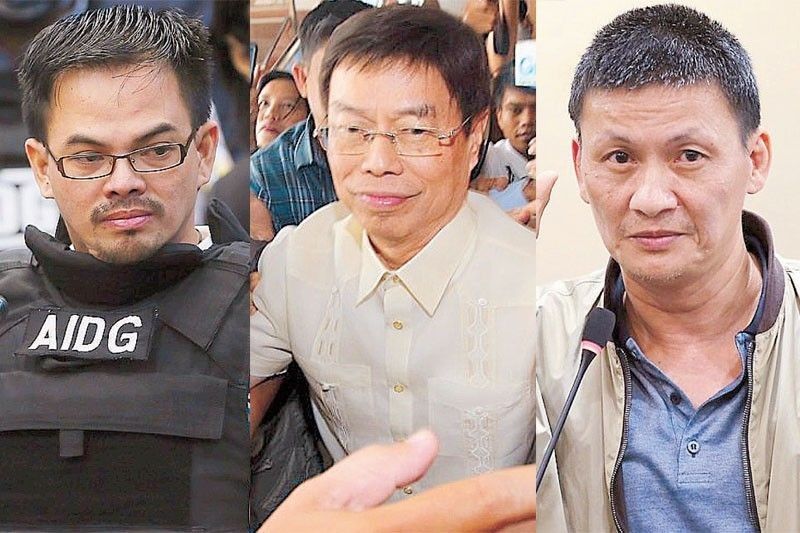 [i][size=85]Composite photo shows (from left) Kerwin Espinosa, Peter Lim and Peter Co. The Department of Justice is set to conduct a preliminary investigation on their case on April 12.
File photos
MANILA, Philippines — Two of the respondents in the high-profile drug case filed against confessed drug trader Kerwin Espinosa are already dead, documents showed.
The Department of Justice has issued subpoena or summons to the respondents in the drug case filed by the Philippine National Police-Criminal Investigation and Detection Group for preliminary investigation on April 12.
The summons, however, showed that respondents Max Miro and Nelson "Jun" Pepito are already dead.
Pepito was gunned down on Dec. 1, 2017 by two unidentified men riding a motorcycle. The police report, attached to the subpoena, states that Pepito was shot at 6:50 a.m. in Albuera, Leyte.
The authorities have yet to identify the perpetrators in the killing of Pepito.
Respondent Miro was killed by police in Barangay Bantigue, Ormoc City on March 10.
Others named as respondents in the case are high-profile inmate Peter Co, Cebu-based businessman Peter Lim, Lovely Impal, Ruel Malindangan and 11 others only known through their aliases.
The probe will now be handled by Senior Assistant State Prosecutor Juan Pedro Navera, Assistant State Prosecutor Anna Noreen Devanadera and Prosecution Attorney Herbert Calvin Abugan.
The three-member panel was created by Justice Secretary Vitaliano Aguirre II after criticisms were thrown against the Department of Justice for dropping the case.
Assistant State Prosecutor Michael John Humarang and Regional Trial Court Judge Aristotle Reyes, former Assistant State Prosecutor, cited the "weak complaint" filed by the police.
The PNP-CIDG has admitted that they did not attach Espinosa's confession at the Senate to their complaint, but said that they are confident that their appeal can result in the indictment of the respondents.
Humarang and Reyes are currently being investigated by the National Bureau of Investigation for their possible offenses when they junked the complaint.
Read more at
https://www.philstar.com/headlines/2018 ... jAJjlqK.99