Sayang...
What can you say about her death???
I was troubled while reading this news...
What a waste...
____________
Mourning for Jo: People's scholar with a big heart
By Janvic Mateo (The Philippine Star) | Updated December 1, 2017 - 12:00am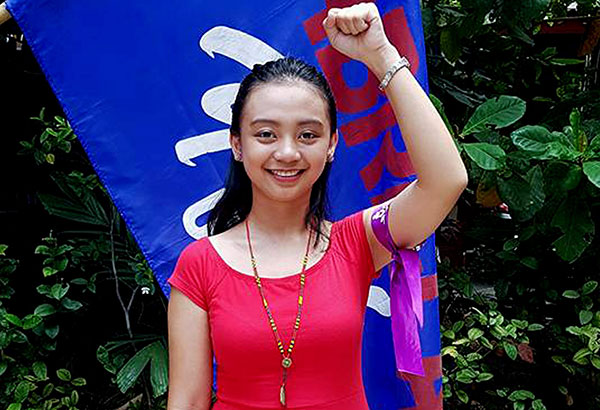 Image from Facebook shows Josephine Anne Lapira campaigning as College of Arts and Sciences representative to the University Student Council of UP Manila in 2016.
MANILA, Philippines — A pint-sized woman with a big heart for the country.
This is how friends and colleagues describe Josephine Anne Lapira, a University of the Philippines student who was among those killed in a clash between the military and members of the New People's Army (NPA) in Batangas on Tuesday.
In a post on Facebook, the UP Manila College of Arts and Sciences expressed its condolences to the family and friends of Lapira, a biochemistry student.
It described her as a
martyr
and "Iskolar ng Bayan who offered her life in pursuit of her principles of serving the people."
Lapira was among the 15 people believed to be NPA members who were killed in the clash with the Army's 2nd Infantry Division.
Former student regent and UP Manila instructor Cleve Arguelles recalled how a tiny woman like Lapira could give a big and warm embrace.
"Jo is not Jo without her feminist politics, without her revolutionary passion. After all, her death is ultimately political. And our paths would have not crossed, a friendship would have not been formed, if not for our shared political causes," said Arguelles in a Facebook post.
"And while many among us, including me, do not share the cause of armed revolution, it is impossible not to appreciate, or even hold in high regard Jo, as someone who dedicated her life to principled causes, to noble aspirations… Jo, however small, lived a worthy life dedicated to pursuing big questions," he added.
Other colleagues also shared their memories about the slain UP student.
"Jo Lapira always had some magic in her. Anybody who came across her could never forget her. Maybe it was her principled charm, her tenderness, her soft-spoken voice ringing about revolutionary ideas. Rest in Power, 'te Jo. History will never forget you," one Twitter user said.
"Let Jo Lapira serve as an example for us to stand for our convictions, resist the state's abuses and immerse ourselves to the masses no matter how old – for examples never die,"
another added.
http://www.philstar.com/headlines/2017/ ... -big-heart