Satisfaction with Duterte government hits record high – SWS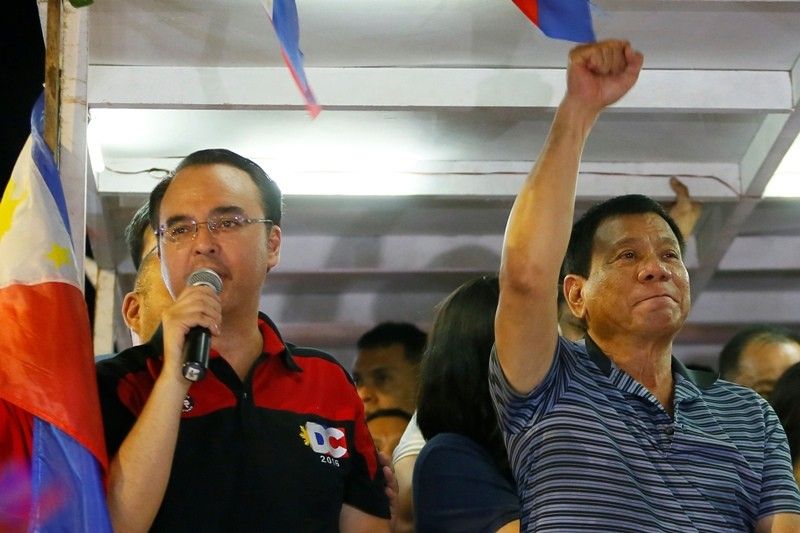 Janvic Mateo (The Philippine Star) - January 19, 2018 - 12:01am
MANILA, Philippines — The number of Filipinos satisfied with the performance of the national government under President Duterte rebounded by 12 points and reached a record-high "excellent" rating in the recent Social Weather Stations (SWS) survey.
Conducted from Dec. 8 to 16 with the results released on Wednesday, the survey showed that the national government obtained an "excellent" +70 net public satisfaction rating (79 percent satisfied, nine percent dissatisfied) in the last quarter of 2017.
This is 12 points higher and one grade up from the "very good" +58 net public satisfaction rating (71 percent satisfied, 13 percent dissatisfied) obtained by the Duterte government in September last year.
It was also the highest since Duterte took over in 2016. The government obtained a "very good" +66 in September 2016, followed by a "very good" +61 in December that year. It rebounded to +66 in March 2017 before falling to +64 in June and +58 in September.
Malacañang welcomed the latest SWS survey results, with presidential spokesman Harry Roque expressing pride over the record-high rating.
"It is worth mentioning that the current administration's +70 net satisfaction rating is considered record-high by SWS. It is also the highest net satisfaction rating received by any administration in the last 28 years," he said during a press briefing in Albay yesterday.
According to Roque, the high public confidence will boost further the President's motivation to ensure the welfare of the Filipino people.
"Needless to say, this excellent public confidence will continue to motivate the President and his team to continue working hard to lay down the foundations of a peaceful and prosperous nation," he said.
The net satisfaction rating is obtained by subtracting the percentage of those who said that they were dissatisfied with the administration from those who said that they were not satisfied.
SWS classifies net satisfaction ratings as follows: +70 and above, excellent; +50 to +69, very good; +30 to +49, good; +10 to +29, moderate; +9 to -9, neutral; -10 to -29, poor; -30 to -49, bad; -50 to -69, very bad; -70 and below, execrable.
The survey firm said the jump in the government's rating was due to new record-high net satisfaction scores achieved in Mindanao, Metro Manila and the rest of Luzon, combined with a steady score in the Visayas.
It increased by eight points in Mindanao, +74 in September to +82 in December, and 20 points in Metro Manila, from +51 to +71.
The government's public satisfaction rating increased by 15 points in the rest of Luzon, from +52 to +67, and stayed at +57 in the Visayas.
Meanwhile, the administration obtained a 20-point decline in public satisfaction among class E respondents, from +66 in September to +46 in December, although it rose by 11 points among class D respondents, from +60 to +71, and increased by two points among class ABC, from +60 to +62.
"Double-digit increases in the national administration's net satisfaction rating occurred among men, among the 35-year-olds and above, and among non-elementary school graduates, elementary school graduates and college graduates," said SWS.
Specific issues
Public satisfaction on the government's performance on specific issues also mostly improved in the latest survey compared in September.
The Duterte administration obtained "very good" satisfaction ratings in five specific issues: fighting terrorism (+67, up 20 points), helping the poor (+66, down one point), building and maintenance of public works (+59, recently included issue), foreign relations (+55, up 15 points) and providing jobs (+50, steady).