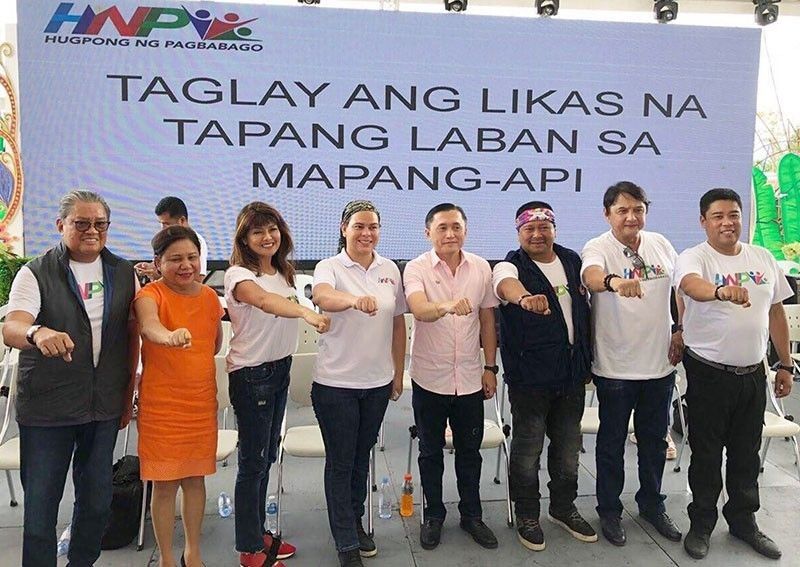 Sara's Hugpong inks alliances with NP, other parties today Edith Regalado
(The Philippine Star) - August 13, 2018 - 12:00am
DAVAO CITY, Philippines — As the ruling PDP-Laban is torn by disunity, the newly formed party of President Duterte's daughter Sara Duterte-Carpio continues to gain strength.
The Hugpong ng Pagbabago (HNP) is signing alliances with at least eight national and local political parties led by the Nacionalistas at the Blue Leaf Filipinas in Parañaque City this morning.
Duterte-Carpio, who is Davao City mayor, said the HNP is willing to help the embattled Partido Demokratiko Pilipino-Lakas ng Bayan, which is torn by infighting among its factions.
She said the HNP is offering a hand of friendship to all other political parties who support the administration of her father the President.
HNP is supposedly a regional political grouping, but several major parties including the Solid North led by Ilocos Norte Gov. Imee Marcos have asked to join. The Solid North refers to the bailiwick of the clan of the late president Ferdinand Marcos in the Ilocos region.
The Nacionalista Party, which supported Duterte's presidential bid in 2016, is led by the group of Sen. Cynthia Villar and her husband, former Senate president Manuel Villar.
HNP was officially launched last February by Duterte-Carpio and Governors Tyrone Uy, Claude Bautista, Anthony del Rosario and Nelson Dayanghirang of the provinces of Compostela Valley, Davao Occidental, Davao del Norte and Davao Oriental, respectively, all of Southern Mindanao.
Last July, the Commission on Elections granted the petition of HNP for recognition as a regional political party.
PDP-Laban is the political party of President Duterte. The HNP was formed amid a falling out between Duterte-Carpio and PDP-Laban stalwart Pantaleon Alvarez Jr., at the time the House speaker. Alvarez remains with the PDP-Laban.
In a statement yesterday, however, Duterte-Carpio stressed: "If there is anything that HNP can do to help PDP-Laban, our group is ready to assist them."
"HNP respects the history, experience, and the wisdom of the PDP-Laban party. HNP finds it truly unfortunate that PDP-Laban is embroiled in internal problems and hopes that competing party members resolve their differences," Duterte-Carpio added.
She stressed that HNP is a purely regional political party after its petition was granted by the Comelec.
"HNP does not intend to recruit members of PDP-Laban or other national political parties," Duterte-Carpio said.
She said that while the HNP has supporters outside Davao, they have been advised to form their own local parties or join other national parties, including the PDP-Laban.