STRATEGIC BASES I Plan to station ships and jets in Subic part of AFP upgrade
July 17, 2015 by Alvin Santiago in Military, News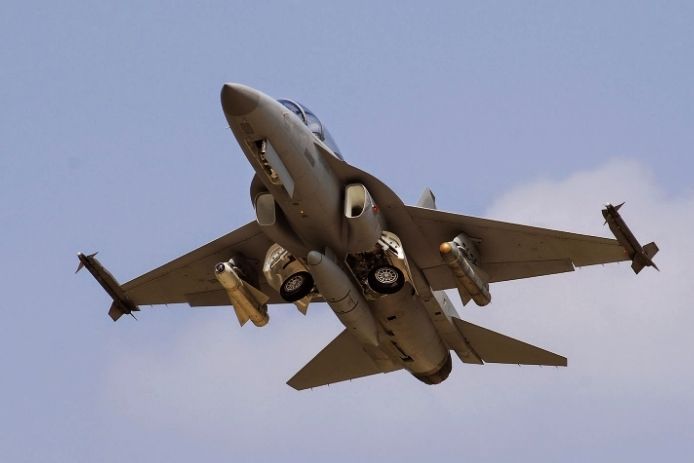 CGEA, Quezon City (DWDD) – The Armed Forces of the Philippines has been planning to station fighter jets and naval ships at Subic Bay, Zambales.
According to Dr. Peter Paul Galvez, Defense Department Spokesperson, the plan was first discussed in 2013 and it is part of the ongoing modernization program to transfer all air units in Sangley Point, Cavite and reduce military air traffic in Clark Air Force Base, Pampanga due to commercial use and decongestion of the Ninoy Aquino International Airport in Pasay.
Galvez added that it is just logical for the government to use the Subic Bay air facilities for our fighter jets and other aircraft and the nearby deepwater port for naval vessels since the area is well suited for the increasing capabilities of the Philippine Air Force as it already possess a world-class runway which no longer necessitates the construction of an expensive airport.
Subic Bay is also very strategic and our defense forces can easily cover and respond to any threat within the West Philippine Sea. PAS-DND / AES
http://dwdd.com.ph/2015/strategic-bases-i-plan-to-station-ships-and-jets-in-subic-part-of-afp-upgrade/
AFP to station new jets, frigates at Subic Bay
by Reuters
July 17, 2015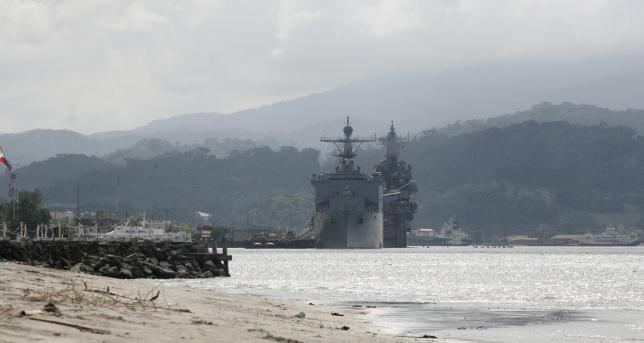 The Philippines will station new fighter jets and two frigates at the former US naval facility in Subic Bay early next year, officials said, the first time the massive installation has functioned as a military base in 23 years.
Using Subic Bay would allow the Philippine air force and navy to respond more effectively to Chinese moves in the disputed South China Sea, security experts said. Subic Bay's deep-water harbor lies on the western side of Luzon, opposite the South China Sea.
"The value of Subic as a military base was proven by the Americans. Chinese defense planners know that," said Rommel Banlaoi, a Philippine security expert.
Once one of the biggest US naval facilities in the world, Subic Bay was shut in 1992 after the Senate terminated a bases agreement with Washington at the end of the Cold War.
Manila converted the facility, which was never home to the Philippine military, into an economic zone.
Defense Undersecretary Pio Lorenzo Batino told Reuters the Armed Forces signed an agreement in May with the zone's operator, the Subic Bay Metropolitan Authority, to use parts of the installation under a renewable 15-year lease.
US warships have called regularly at Subic Bay since 2000, but only to dock during exercises with the Philippine military or to use its commercial facilities for repairs and resupply.
Officials said once Subic Bay operates as a military base again, the US Navy could have much greater access to it under a year-old agreement that gives US troops broad use of local military facilities, although that deal is on ice after it was challenged before the Supreme Court.
Using Subic would be the latest Philippine military move to combat China's maritime ambitions.
Besides beefing up security cooperation with the United States, Japan and Vietnam, the military plans to spend $20 billion over the next 13 years to modernize its armed forces, among the weakest in Southeast Asia.
China, which claims nearly all of the South China Sea said it was aware of reports of the arms buildup.
"We hope that the Philippines does more to benefit regional peace and stability," the defense ministry said in a statement faxed to Reuters.
JET FIGHTERS
Two FA-50 light attack fighters made by Korea Aerospace Industries, the first among a dozen ordered last year, would be based at the former Cubi Naval Station in Subic Bay from early 2016, two Philippine generals told Reuters. The two planes is scheduled to arrive in December.
The full squadron of FA-50s would be based in Subic, as well as the 5th Fighter Wing, which would relocate from a rundown base in northern Luzon, said the generals, who declined to be identified.
Two naval frigates would be stationed at Subic Bay's Alava Port.
The generals cited proximity to the South China Sea and the ease in making the base operational as reasons for the move.
"There are existing facilities in Subic Bay. We need only to refurbish them," one officer said.
Since Subic Bay hasn't functioned as a military base for more than two decades, it was not among eight locations the AFP has said the U.S. military could use under the stalled 2014 defense deal.
The Enhanced Defense Cooperation Agreement (EDCA) would allow the U.S. military to deploy at Philippine bases for longer periods than under existing accords as well as build barracks and facilities for logistics purposes.
The agreement has been frozen since left-wing politicians challenged its constitutionality last year. The Supreme Court is expected to issue a ruling in the coming months.
"(Subic) could be one of the locations … under the Enhanced Defense Cooperation Agreement," Batino said.
The Pentagon said there were informal talks about Philippine base locations but that no plans would be implemented until the Supreme Court issues a ruling.
STRATEGIC SHOAL
Security experts noted that Subic Bay is only 145 nautical miles (270 km) from Scarborough Shoal, which China seized from Manila in 2012 after a three-month standoff with the Philippine navy.
The disputed Spratly islands, where China is building seven man-made islands, some with military facilities, lie further to the southwest of the shoal.
China might one day also turn Scarborough Shoal into an artificial island, which could make it harder for the Philippines to protect its 200-nautical mile (370 km) exclusive economic zone off Luzon, said Patrick Cronin, a regional expert at the Center for a New American Security in Washington.
"New Korean-built light fighter aircraft could reach Scarborough Shoal in just minutes, and maritime patrol aircraft or drones could eventually provide persistent coverage of Chinese movements in the area," Cronin said.
"A return to Subic Bay, this time led by the Philippine air force, would seem to be a prudent defensive response."
CHINA'S TACT
Meanwhile, former national security adviser and ex-Rep. Roilo Golez said China may likely attempt to influence the outcome of next year's presidential elections to guarantee the victory of an ally in Malacañang to further solidify its claim over contested areas in the West Philippine Sea (WPS).
Golez said there is a strong likelihood that China, which has refused to talk to the Aquino government over the WPS issue, will take the same tact it did during the US elections.
"I am worried that if they (Chinese) did it in the US, they might do it also to influence outcome of the Philippine elections. To them, Philippines is a very strategic country that would suit their interest," he told reporters.
Golez aired this possibility as he chided government for failing to take seriously the warning of security experts on the growing external threat to the country.
He called on Filipinos to stop fence sitting and take a more active stance in supporting the country's protest against China's continued incursion on Philippine claimed areas in the WPS.
He said Filipinos can join various protest moves to get world attention against China's bullying tactics.
Golez, a retired Philippine Navy officer urged citizens to join the 3rd global Day of Protest Against China on July 24 infront of the Chinese Embassy Consular offices in Makati City.
National Security Adviser (NSA) Cesar Garcia told a Senate hearing that the territorial dispute in the WPS is now the country's biggest security concern. But instead of beefing up its external security defenses, Golez said officials made questionable purchases using the AFP modernization budget. (With a report from Ben R. Rosario)
Read more at
http://www.mb.com.ph/afp-to-station-new-jets-frigates-at-subic-bay/#Yi5BTZkc7XzqpcyO.99