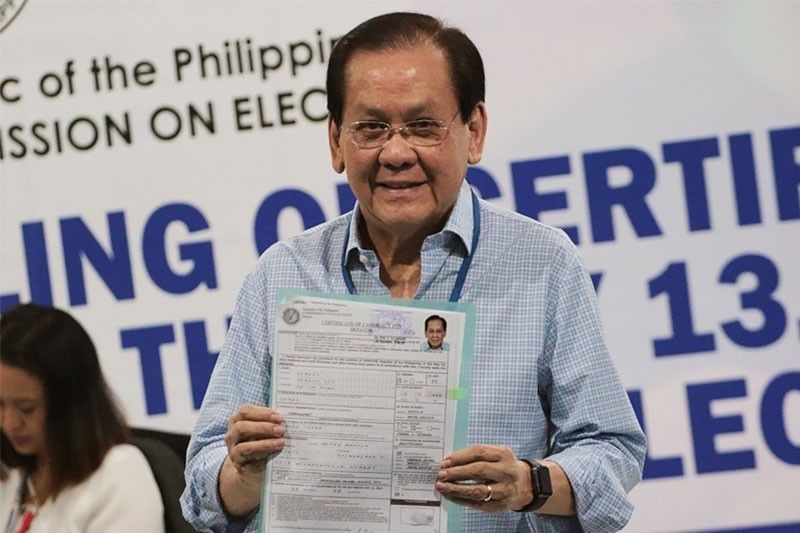 Sergio Osmeña not worried about DQ case
Sheila Crisostomo, Paolo Romero (The Philippine Star) - October 31, 2018 - 12:00am
MANILA, Philippines — Former senator Sergio Osmeña III, who is seeking a return to the Senate, expressed confidence yesterday that he will not be disqualified by the Commission on Elections (Comelec).
The poll body's Campaign Finance Office (CFO) earlier recommended to have Osmeña perpetually barred from holding any government post, whether elective or appointive, for allegedly failing to report his statement of contributions and expenses (SOCE) in the 2010 and 2016 elections. It also proposed to slap the former senator with an administrative fine of P60,000.
"The CFO is correct when they sued for not filing (SOCE) but I filed… I filed late. But they have no adjustment in the law for late filing, they only say you should file on time or else you will be disqualified," Osmeña told The STAR in a telephone interview.
He explained that the Comelec granted his request for a late filing of SOCE in the 2010 elections. He also filed a similar request for the 2016 polls but the poll body allegedly responded to him only a year later.
Osmeña, who has been landing in the top 12 senatorial slots in recent surveys, argued that there is a difference between not filing and filing late.
"But the law does not say that you can file late. It just says 'if you did not file, you're disqualified.' That is crazy because, if you win, one (will be) disqualified because (he) didn't file on time?" he said, pointing out that if this logic is to be followed, then Vice President Leni Robredo would have been disqualified.
The former senator noted that the Comelec, after the 2016 elections, granted the Liberal Party's request for late filing of its candidates' SOCEs.
He vowed to make representations before the Comelec full bench when asked to respond to the CFO recommendation.
Comelec spokesman James Jimenez said the commission still has to approve the recommendation "before any action can be taken on it."
Aside from Osmeña, the CFO also recommended the perpetual disqualification of 459 other aspirants from holding public office for the same reason. The list it submitted to Comelec covered the elections in 2007, 2010, 2013 and 2016.
Of that number, 254 are from the Autonomous Region in Muslim Mindanao, 30 from Northern Mindanao, 22 from the Bicol region, 20 from Calabarzon, 18 from Western Visayas and 17 from the Cordillera Administrative Region.
Eastern Visayas and Soccsksargen both had 14 offenders; while the National Capital Region and Cagayan Valley each had 11 offenders.
The regions with the smallest number of offenders are Central Luzon and Zamboanga peninsula with 10 each, Mimaropa with eight, Ilocos region with seven, Davao five, Central Visayas with four and Caraga three.
Under Republic Act 7166, all individuals that filed COCs are required to submit their SOCEs. Failure to do so twice could lead to perpetual disqualification from an elective or appointive public office.