Decoding Jesus: Separating man from myth
By John Blake, CNN
Updated 1252 GMT (2052 HKT) March 5, 2017
(CNN)Timothy Freke was flipping through an old academic book when he came across a religious
image that some would call obscene.
It was a drawing of a third-century amulet depicting a naked man nailed to a cross. The man was
born of a virgin, preached about being "born again" and had risen from the dead after crucifixion,
Freke says.
But the name on the amulet wasn't Jesus. It was a pseudonym for Osiris-Dionysus, a pagan god
in ancient Mediterranean culture.

Freke says the amulet was evidence of something that sounds like sacrilege -- and some would say
it is: that Jesus never existed. He was a myth created by first-century Jews who modeled him after
other dying and resurrected pagan gods, says Freke, author of
"The Jesus Mysteries:
Was the 'Original Jesus' a Pagan God?"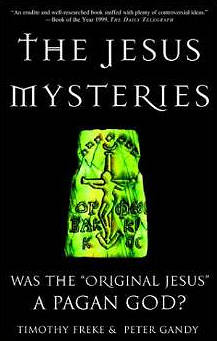 The evidence against Jesus' existence

:

Those who argue against Jesus' existence make some of these points:
- The uncanny parallels between pagan stories in the ancient world and the stories of Jesus.
- No credible sources outside the Bible say Jesus existed.
- The Apostle Paul never referred to a historical Jesus.

Price
, author of
"Deconstructing Jesus,"
says the first-century Western world was full of stories
of a martyred hero who is called a son of God.
"There are ancient novels from that period where the hero is condemned to the cross and
even crucified, but he escapes and survives it," Price says. "That looks like Jesus."

read more -
http://edition.cnn.com/2017/02/15/livin ... index.html
` any reaction from the article or book and the 'pesky' issue on Mr. Yeshua bar Yosef..?