'Boom Boom' ponders future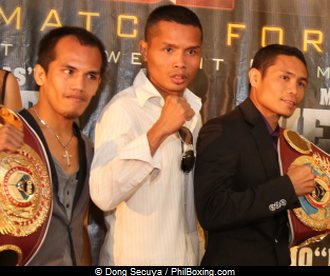 Rey (Boom Boom) Bautista turned pro at 16, a week shy of his 17th birthday, in 2003 and now at 27, he's a grizzled veteran with 37 fights under his belt. Tomorrow night, he promises to make a sensational debut as a superfeatherweight against Mexican Sergio Villanueva in a 10-round appetizer to the Donnie Nietes-Moises Fuentes rematch at the Mall of Asia Arena.
Bautista wasn't his usual self in his last outing which he lost to Mexican Jose Ramirez on a split decision in Davao City a year ago. He went down in the first round, got up to floor Ramirez in the eighth but ran out of gas down the stretch. Bautista said he had difficulty making the 126-pound featherweight limit and couldn't get it together.
"I couldn't focus right away," said Bautista in Filipino. "I drank two bottles of different energy drinks in the dressing room and I got dizzy. Ramirez isn't a good fighter. It was just that I was dehydrated. But no excuses, I lost that fight. Now, I'm up to 130. If Ramirez wants to go up to superfeatherweight, I'll be ready for him."
Bautista said when he was knocked down in the first round, it didn't bring back the nightmarish memory of his bleak try to wrest the WBO superbantamweight crown from Mexican Daniel Ponce de Leon in Sacramento in 2007. Ponce de Leon knocked out the previously unbeaten Bautista at 2:30 of the opening round.
"I've put the Ponce de Leon fight out of my mind," said Bautista. "I was young then, immature. I wanted to take him out with one punch in one round. Now, things are different. When I went down in the first round of the Ramirez fight, it was because of lack of concentration. I didn't think about Ponce de Leon. I just knew it was because my weight problem." Yesterday, Bautista said he was three over the 130-pound superfeatherweight limit. It won't be an issue scaling down at the weigh-in today.
more.....
http://philboxing.com/news/story-95213.html