Know more about JESON PATROMBON (seeded#8 this australian open) our young pinoy hopeful to tennis stardom and a pride of ILIGAN CITY........
he will go for a next quarterfinal match with Morgan a british seeded #4
Junior Boys' Singles - Quarterfinals
George Morgan(GBR)[4] vs. Jeson Patrombon(PHI)[8]
http://www.gmanews.tv/story/210949/patrombon-jumps-to-12th-in-itf-world-jr-rankings

http://www.gmanews.tv/story/211304/australian-open-playing-in-pain-patrombon-survives-local-boy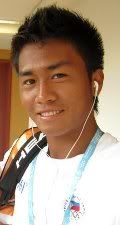 Sports News
Patrombon jumps to 12th in ITF world jr rankings
01/19/2011 | 03:25 PM
Jeson Patrombon has claimed his current status as an up-and-coming star in the world of tennis. The 17-year-old ace is now ranked 12th in the world in the junior's division, currently the highest of any player in Asia.
Jeson Patrombon. GMANews.TV
This feat is special, considering the young man's humble beginnings.
In an interview with GMANews.TV, Manny Tecson, Patrombon's coach, revealed that he discovered the young tennis sensation working as a ballboy at the NPC Tennis Club in Iligan City.
The former Philippine Davis Cup captain saw the young Patrombon hitting tennis balls with a bottle.
"I thought that if he could hit tennis balls with a bottle, why not give him a racket?" said Tecson.
Tecson, through the Tennis Academy of the Philippines Foundation (TAPF), started to train the young Patrombon in 2007.
Jeson is one of seven children. His father worked as a janitor at the National Power Corporation while his mother stayed at home.
"This was a major issue in Jeson's development when he was starting out," Tecson adds. "That's why I had a meeting with Rep. Romeo Jalosjos, the TAPF chairman, and told him if we want to fast-track Jeson's development as a tennis player, we should help and provide Jeson with a stable income to help his family so he can focus on his tennis 100 percent."
The TAPF sponsors the physical and technical training, academic tutorials, board and lodging, and tournament expenses of their scholars. The TAPF Wellness Center in Muntinlupa City serves as a dormitory for Patrombon and other promising athletes like Marinel Rudas and Fil-Italian Marc Reyes.
"I train Jeson together with other scholars of the TAPF," Tecson says. "The morning session is dedicated to developing strength, endurance and flexibility, while the afternoon session is dedicated to technical, strategical and mental approaches to the game. A lot of coaching, drills on and off the court, and matches are used to keep testing all the strategies that we are developing for competitions."
Tecson recalls, "Since Jeson did not benefit from formal coaching when he was younger, the first year was dedicated to developing his technique to be competitive in the international level, because a lot of his basics proved wrong. His forehand did not have racket head speed to generate power; he was just stroking the ball, typical of club players, and not hitting it. Also, he was not using his upper body by turning the shoulders and coiling his body to generate pace on his shots; he was just guiding the ball over the net. His backhand was weak because he was not stepping in on the shots, as he was just waiting for the ball and hitting it on his back foot, which puts your weight backwards and not forward into the shot. His serve was also very weak because he was just arming the serve and not getting his entire body involved into the serve by using his legs like a spring and exploding to the ball. He did not know how to volley and did not have an idea where to place the volley once he got there. His footwork was weak and he was so thin so we had to develop his upper and lower body strength."
After developing technique, footwork and speed on his first year, Patrombon was sent out to compete and grab the number one ranking in the local juniors division in 2008. He worked towards his goal by competing in Grade 4 and Grade 5 level tournaments — low-level competitions where he started earning points for rankings. He participated in the PHINMA/ITF International Junior Tournaments in Manila, the ITF Junior Circuit in Sri Lanka, and finally emerged as the winner of the Singapore International Junior Championship.
In 2009, he started to compete in Grades 3, 2, 1 and Grade A ITF tournaments, higher-level tournaments that award more points for rankings. He reached as far as the quarterfinals in several tournaments, including the Bangladesh International Junior Championships, the ITF/LTAT Junior Championships in Thailand, the ITF Malaysian World Junior Tennis Championships, and the World Super Junior Championships in Japan.
Last year, Patrombon focused on Grade 1 and Grade A tournaments. He competed in the juniors division of several grand slam tournaments, including the US Open, the French Open, and Wimbledon. He also represented the Philippines in the Youth Olympic Games in Singapore.
He started in 2010 ranked 300th in the world, but strong performances in tournaments catapulted him to 12th place. He grabbed the top prize in the China Junior II competition in Xiamen. He was also the runner-up in the Japan Open Junior Championships.
Jeson Patrombon in training. GMANews.TV
Reaching the quarterfinals in the Loy Yang Power Traralgon International and the Australian Open, as well as the semifinals in the ITF Malaysian World Junior Tennis Championships, the ITF/LTAT Junior Championships in Thailand, and the Asian/Oceania Closed Championships in Korea, helped catapult Jeson to his new ranking.
Tecson adds that only a foot injury prevented the young Filipino form barging into the Top 10.
"We focused on getting into the Top 10 by yearend, but a wart developed in his left foot while he was playing in the Yucatan World Cup in Mexico. He needed an operation and this led him to miss the Orange Bowl and the Eddie Herr International," said Tecson.
Participating in the two crucial tournaments in Florida would have given Patrombon the much-needed points to climb further up the rankings.
Now injury-free, the young tennis star is focused on additional goals for 2011.
"Jeson's ranking is a sign that he's ready to turn pro," said Tecson, who stressed that his ward will be looking towards competing in more professional tournaments than juniors tournaments this year.
The right-handed Patrombon relies on several weapons: the forehand, the backhand down the line and service returns. He also undergoes training twice daily.
Patrombon starts his quest this month in Australia, where he is seeded 9th in the Australian Open Junior Championships. He also competed in the Open's pre-tourney competition, the Loy Yang Traralgon International.
In February, Patrombon will start his attempt to break into the ATP Men's world rankings by participating in a $10,000 Futures tournament in Turkey.
The tennis world is turning out to be Jeson's own oyster — an amazing opportunity indeed at the young age of seventeen. - Renee Fopalan, KY, JVP, GMANews.TV