Samsung Galaxy Note III to have 3GB of RAM, slimmer profile?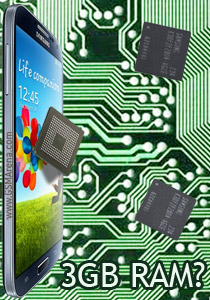 The Samsung Galaxy Note had 1GB RAM, the Galaxy Note II had 2GB RAM and the Galaxy Note III will have... 3GB RAM. That's what Korean publication Hankyung claims anyway. So far from leaks we've seen that the Note III will pack either a Snapdragon 800 chipset or an Exynos 5 Octa (pretty much the same options as the Galaxy S4 uses, now that the LTE-A version is official).
However, the publication mentions LTE Advanced, which points to the Qualcomm chipset, at least in some regions. As for RAM supplier, Samsung, LG and SK Hynix have been mentioned. Samsung is already manufacturing 4GB LPDDR3 RAM based on a 20nm process, SK Hynix also demoed such RAM chips.
Other Note III specs we've gleaned from leaks include a 5.7" or 6" Super AMOLED screen with 1080p resolution and a 13MP camera. In terms of looks it's set to be a Galaxy S4 lookalike.
Meanwhile, SamMobile reports that the Galaxy Note III will be 8mm thick and weigh 183g. That's a little thinner than the Note II and about the same weight (not impossible, considering the bigger Mega 6.3 is just 15g heavier).
_________________
"If I believe in God and life after death and you do not and if there is no God, we both lose when we die. However, if there is a God, you still lose and I gain everything."
- Blaise Pascal