GBP wins Vazquez-Larios bid!
Friday, March 17 2006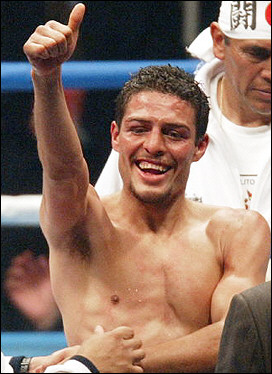 Golden Boy Promotions today won the purse offer for
the WBC super bantamweight world title fight between
champion Israel Vazquez and challenger Oscar Larios,
both of Mexico. Golden Boy won the rights to promote
the fight with a bid of $200,000 (USD), and as of today
will have ten working days to make the 10 percent deposit
with the WBC. Besides the winning promoter, two other
promoters participated: Prestige, a Mexican company
headed by Dr. Fausto Daniel Garcia, and North American
promoter Sycuan Promotions. Avel Gonzalez of Miami, Florida,
a member of the WBC Board of Governors, supervised the
purse offer. Approximately half an hour after the purse offer,
the WBC Executive Office was visited by super bantamweight
champion Israel Vazquez, who became one of the first to
know the outcome of the purse offer.
Source:
http://www.fightnews.com/fightnews_2/he ... cGxBw.html
_________________
"I REFUSE to go into a battle of wits with an unarmed man."