riverspoons wrote:
Hi it's been a long time since I made a fan art for Manny.
I was kinda irked by Sergio Martinez statement and I just want to show him this poster art that I made!
I was kinda excited adding "shame mostly" here. I wonder if he'll be lying or sitting.
and of course all of us wants to add "Fraud The duck mayweather"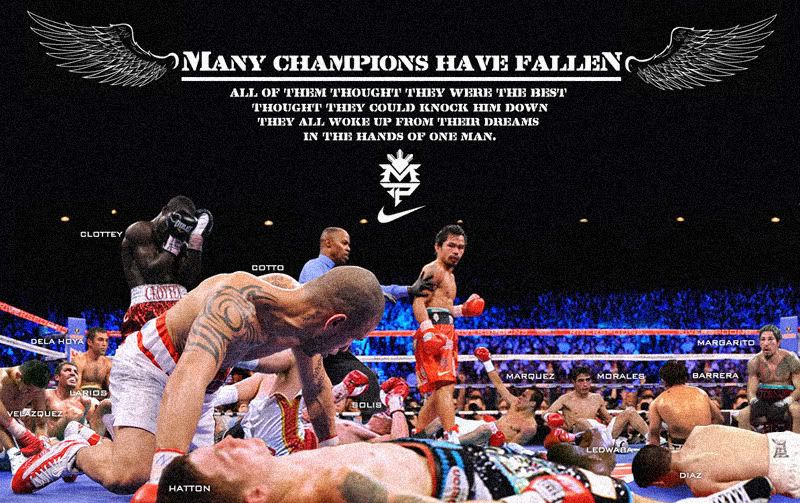 For bloggers who will repost my work. please do give proper credit, thanks!
Thanks for looking!
Nice work sir.
I have a question... I know that this is the updated version (which is very nice if I may say again), but if I'm not mistaken there was also an art like this one I saw here on Pacland in the past, but minus Clottey, Cotto and Marga I think, was it also you who made it or another Paclander? If it was another Paclander, who was he? and could any of you kindly provide a link on that one too, if it's no trouble, thanks.
The reason I'm asking, is because I really like this artwork (this updated version) and the first one like this that I saw before here on Pacland.
Nice for a poster, ang ganda kasi e, epic ang dating, it's like warriors dueling o warriors duel wherein the hero, in this case Manny, defeats all of his enemies and ends up on top of the heap of his beaten foes.
Again man, nice work.
_________________
"...awaken your consciousness of our past, already effaced from our memory, and to rectify what has been falsified and slandered."
-Jose Rizal, from his 1889 essay, 'To the Filipinos'
"We will rise again" - Manny Pacquiao