CONDES DECLARES HE'S IN BEST SHAPE EVER!
By Salven L. Lagumbay
PhilBoxing.com
Sun, 25 May 2008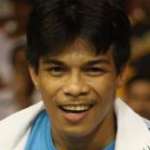 MANDAUE CITY--IBF minimumweight kingpin Florante "The Little Pacquiao" Condes has informed friends, fans and select media that he's never been in better shape going into his June 14 title defense against Mexican Raul Garcia.
In an exclusive interview last night at the residence of his Filipino promoter Sammy Gello-ani where the latter tendered a 'despideda' party for the boxing champion, Condes revealed that he is in terrific shape, which he even described as "better than my conditioning when I fought Rachman in Indonesia."
The reigning IBF champion is currently training at the famed ALA Gym of sportsman Antonio L. Aldeguer.
Condes (22-3-1, 20 KO's) took special notice that he has been hitting the mitts for 10 full rounds without let-up, and felt that his body can still go even five more rounds, noting that his morning runs have tremendously helped his conditioning.
"Grabe yung takbo namin sa umaga. Bulubundukin yung tinatakbo namin, at talagang puspusan yung takbo. Yung running mate ko na si Cham Sedillo ng Amlan grabe kung tumakbo, kaya na challenge talaga ako sa takbohan," informed Condes, who met for the first time a few members of the PACLAND Cebu Chapter led by Ramrod.
The Romblon-raised fighter dethroned Rachman last year with a twelve-round split decision using superb pressure fighting skills which allowed him to knock Rachman down twice during the fight.
"I just hope Garcia runs, because that way, it would be easier to catch him as I'm used to chasing opponents. If he doesn't run, and choose to fight, then we have a great fight," said Condes, who added that Rachman is a more credentialed fighter than the unbeaten Garcia (22-0-1, 15 KO's).
Trainer Danny Bactol, whose on top of Condes' training, has confirmed that his ward has already reached his desired stamina level, and should be ready to go the full route.
"We just came from a 10-round mitt work, and I made him work every moment of every round. He came out asking for more rounds," said Bactol, who will be travelling with Condes to Mexico.
Meanwhile, Team Condes is set to pay a courtesy call on Philippine Vice President Noli De Casto on Wednesday, 4PM, according to promoter Sammy Gello-ani.
Condes and his trainer fly out of Cebu early morning on Tuesday, and plane out of the country for Los Angeles on June 4.
Condes has made an special request to visit the clinic of renowned orthodontist Dr Ed de la Vega so he could be fitted a custom-made mouthguard similar to that of his idol, the Pacman.
"Maganda gamitin yung mouthpiece ni Dr De la Vega, kasi alam ko hindi nahuhulog yun tuwing laban. Gusto ko yung ganun ang gagamitin ko sa bakbakan," said Condes, who added that he would also prefer to use the popular Cleto Reyes gloves of Mexico for his fight with Garcia.
"Nagamit ko yung Cleto Reyes minsan, ang sarap ng pakiramdam ko. Pag tumama ako sa kanya, talagang sapol sya," said Condes.
Trainer Bactol, when asked about using Cleto Reyes gloves, nodded approvingly saying that if Condes hits Garcia, the Mexican is surely going to sleep.
"Condes hits like a featherweight. If Garcia is man enough to trade with us, and if he doesn't go down once Condes hits him, he should be superman," said Bactol.
Gello-ani reiterated that Condes is the type of fighter who can be a superstar even with his small frame, and even fighting at a smaller weight division.
"I mean, Condes has the potential of becoming a legendary boxer. Look at his power and fighting style, he has no fear during a fight, and he bangs his gloves just like Manny Pacquiao. He is a destroyer in every sense of the word," stressed Gello-ani.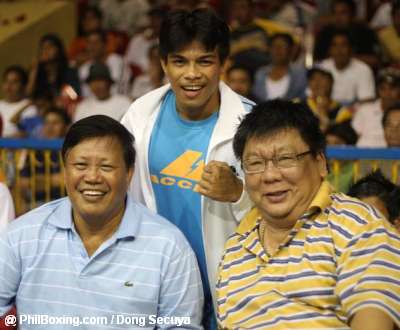 BF minimumweight champ Florante Condes (C) poses with promoters Sammy Gello-ani (L) and Rex "Wakee" Salud during the recent 'Back on Track' boxing event at the Cebu Coliseum in Cebu City. Photo by Dong Secuya.
Lets hope and pray that Condes will win...