There's a wonderful family called Stein,
There's Gert and there's Ep and there's Ein;
Gert's poems are bunk,
Ep's statues are junk,
And no one can understand Ein.
Anonymous
Current in the United States in the 1920s, the lines refer to Gertrude Stein, Jacob Epstein, and Albert Einstein.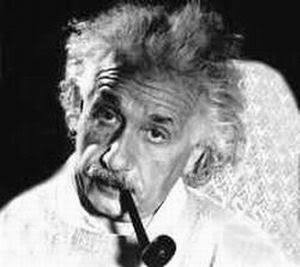 Albert Einstein(1879-1955), a German-born American physicist, is considered one of the greatest and most popular scientists of all time. Three papers he published in 1905 were pivotal in the development of physics and, to a large degree, Western thought. These papers discussed the quantum nature of light, provided a description of molecular motion, and introduced the special theory of relativity. Einstein was famous for continually reexamining traditional scientific assumptions and coming to straightforward, elegant conclusions no one else had reached. He is less famous for his social involvement, although he was a staunch supporter of both pacifism and Zionism.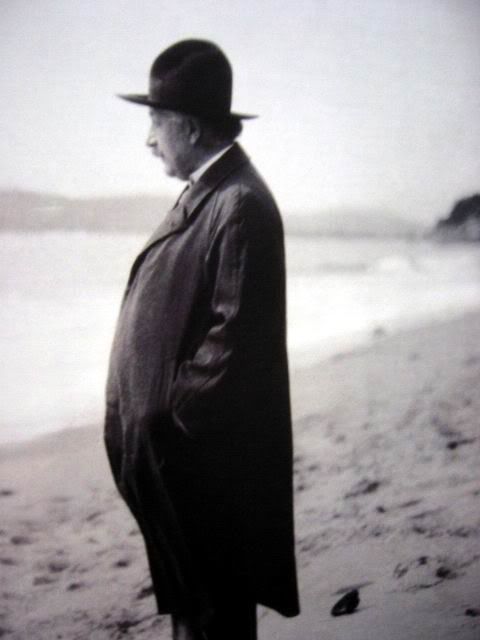 "Do you realize that Einstein is a scientist who needs no laboratory, no equipment, no tools of any kind? He just sits in an empty room with a pencil and a piece of paper and his BRAIN."------David Ben-Gurion, first prime minister of Israel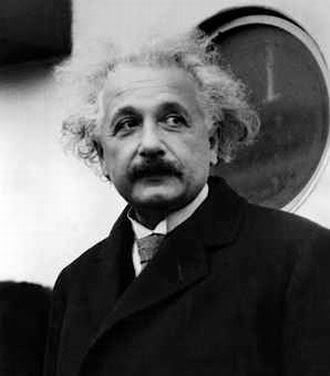 In 1905 Albert Einstein published his first paper outlining the theory of relativity. It was ignored by most of the scientific community. In 1916 he published his second major paper on relativity, which altered mankind's fundamental concepts of space and time. On the basis of the general theory of relativity, Einstein accounted for the previously unexplained variations in the orbital motion of the planets and predicted the bending of starlight in the vicinity of a massive body such as the sun. The confirmation of this latter phenomenon during an eclipse of the sun in 1919 became a media event, and Einstein's fame spread worldwide.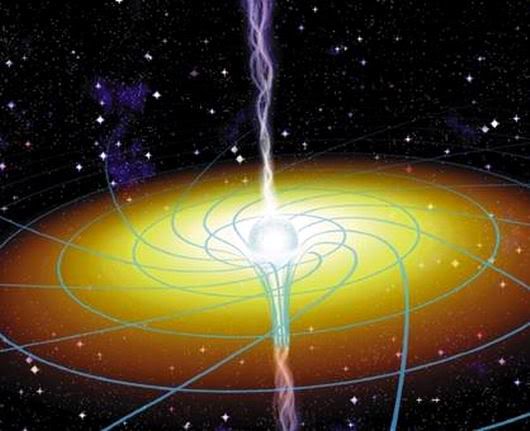 Dragging Space and Time
The results of two studies announced in early November 1997 provide unprecedented support for "frame-dragging," a concept predicted by physicist Albert Einstein's general theory of relativity. Frame-dragging describes how massive objects actually distort space and time around themselves as they rotate. One of the studies examined frame-dragging around black holes, an example of which is shown here in an artist's conception.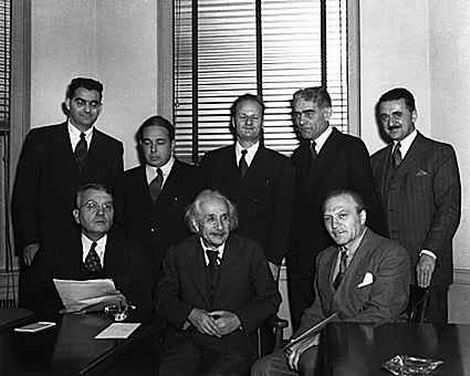 In 1946 eight scientists formed the Emergency Committee of Atomic Scientists to advocate international control of nuclear energy and studies for its peaceful uses. Pictured are, left to right, front, Harold Urey, Albert Einstein, and Selig Hecht; and rear, Victor Weisskopf, Leo Szilard, Hans Bethe, Thorfin Hogness, and Philip Morse.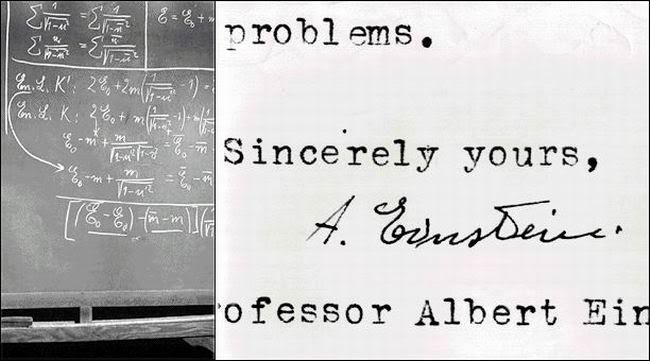 Einstein: Scientist and Activist
Albert Einstein was most famous for his contributions to theoretical physics, but he was also active in social and political causes such as Zionism and political freedom. Here, some of his equations appear next to his signature on a letter addressing the threat of an atomic bomb in Nazi Germany.

During World War I he was one of a handful of German academics willing to publicly decry Germany's involvement in the war. When Hitler came to power, Einstein immediately decided to leave Germany for the United States. He took a position at the Institute for Advanced Study at Princeton, New Jersey. While continuing his efforts on behalf of world Zionism, Einstein renounced his former pacifist stand in the face of the awesome threat to humankind posed by the Nazi regime in Germany. In 1939 Einstein collaborated with several other physicists in writing a letter to President Franklin D. Roosevelt, pointing out the possibility of making an atomic bomb and the likelihood that the German government was embarking on such a course. The letter, which bore only Einstein's signature, helped lend urgency to efforts in the U.S. to build the atomic bomb, but Einstein himself played no role in the work and knew nothing about it at the time. After the war, Einstein was active in the cause of international disarmament and world government. He continued his active support of Zionism but declined the offer made by leaders of the state of Israel to become president of that country. In the U.S. during the late 1940s and early '50s he spoke out on the need for the nation's intellectuals to make any sacrifice necessary to preserve political freedom. Einstein died in Princeton on April 18, 1955.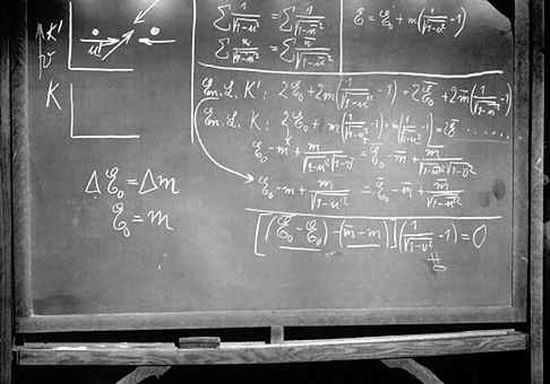 Einstein's Equations
Mathematical relationships are expressed in symbols. Equations express the most fundamental mathematical relationship: equality. Physicist Albert Einstein produced one of the most famous equations, E = mc2, which expressed the equivalence of matter and energy. Although he later became politically active, supporting pacifism and Zionism, he claimed, "Equations are more important to me, because politics is for the present, but an equation is something for eternity."
Einstein's Letter to Franklin D. Roosevelt
Albert Einstein
Old Grove Rd.
Nassau Point
Peconic, Long Island
August 2nd, 1939
F.D. Roosevelt,
President of the United States,
White House
Washington, D.C.
Sir:
Some recent work by E.Fermi and L. Szilard, which has been communicated to me in manuscript, leads me to expect that the element uranium may be turned into a new and important source of energy in the immediate future. Certain aspects of the situation which has arisen seem to call for watchfulness and, if necessary, quick action on the part of the Administration. I believe therefore that it is my duty to bring to your attention the following facts and recommendations:
In the course of the last four months it has been made probable—through the work of Joliot in France as well as Fermi and Szilard in America—that it may become possible to set up a nuclear chain reaction in a large mass of uranium, by which vast amounts of power and large quantities of new radium-like elements would be generated. Now it appears almost certain that this could be achieved in the immediate future.
This new phenomenon would also lead to the construction of bombs, and it is conceivable—though much less certain—that extremely powerful bombs of a new type may thus be constructed. A single bomb of this type, carried by boat and exploded in a port, might very well destroy the whole port together with some of the surrounding territory. However, such bombs might very well prove to be too heavy for transportation by air.
The United States has only very poor ores of uranium in moderate quantities. There is some good ore in Canada and the former Czechoslovakia, while the most important source of uranium is Belgian Congo.
In view of this situation you may think it desirable to have some permanent contact maintained between the Administration and the group of physicists working on chain reactions in America. One possible way of achieving this might be for you to entrust with this task a person who has your confidence and who could perhaps serve in an inofficial capacity. His task might comprise the following:
a) to approach Government Departments, keep them informed of the further development, and put forward recommendations for Government action, giving particular attention to the problem of securing a supply of uranium ore for the United States;
b) to speed up the experimental work, which is at present being carried on within the limits of the budgets of University laboratories, by providing funds, if such funds be required, through his contacts with private persons who are willing to make contributions for this cause, and perhaps also by obtaining the co-operation of industrial laboratories which have the necessary equipment.
I understand that Germany has actually stopped the sale of uranium from the Czechoslovakian mines which she has taken over. That she should have taken such early action might perhaps be understood on the ground that the son of the German Under-Secretary of State, von Weizsäcker, is attached to the Kaiser-Wilhelm-Institut in Berlin where some of the American work on uranium is now being repeated.
Yours very truly,
Albert Einstein
Source: Library of Congress.