Quote: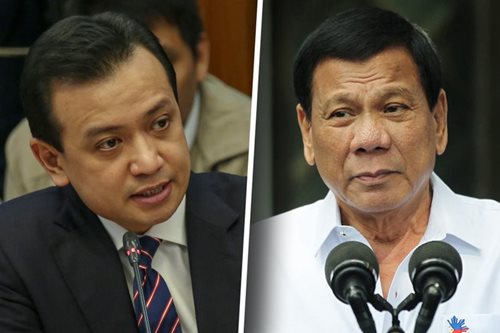 Trillanes, in a statement Friday night, said Duterte's new allegations on foreign bank accounts are
a "new invention."
"Mga bagong imbento ni Duterte. Anyway, that's an obvious diversion from his billion-peso bank accounts that were confirmed by the Ombudsman. Nonetheless, first thing on Monday, I would sign waivers for these accounts so that the AMLC can look into and examine them," he said.
"Wala nang drama kasi wala akong tinatago. What about you Mr. Duterte kelan ka magpapakalalaki at pipirma ng waivers?" Trillanes added.
Trillanes on Sept. 11 announced he signed a waiver for 12 bank accounts being linked to him, and
dared Duterte to do the same.
`
`panay 3 points ni trilyones ahh...,,''
'''
panay fumbol naman si dutards...,, eh,, eh,,..panik mode na ga..?
'''
_________________
,
"...
Lets do it to them before they do it to us
..." Sgt. Stan Jablonski, Hill Street Precinct