The Worricker Collection
(2011-2014)
stars biil nighy, ralph fiennes hbonham carter, rachel weisz
Overview
-
The 2011 BBC Two film "Page Eight" was followed in March 2014 by "Turks & Caicos" and "Salting
the Battlefield".
The three films are jointly known as The Worricker Trilogy
.
All three films feature Johnny Worricker (Bill Nighy), a long-serving MI5 officer, who learns that the
Prime Minister knew about secret US rendition camps long before the British intelligence community
knew about them. When the PM realises that Johnny knows, Johnny has to flee the country. And while
in exile in the tax haven Turks & Caicos, Johnny learns even more disturbing things about the PM,
before he has to flee again.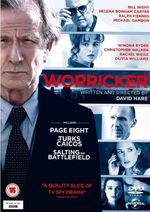 '''
_________________
,
"...
Lets do it to them before they do it to us
..." Sgt. Stan Jablonski, Hill Street Precinct