Three Billboards Outside Ebbing, Missouri
is a 2017 drama film written, produced, and
directed by Martin McDonagh. It stars Frances McDormand, Woody Harrelson, Sam Rockwell.
At the 90th Academy Awards, the film received seven nominations.
plot -
Mildred Hayes is grieving the rape and murder of her teenage daughter Angela seven months
prior. Angry over the lack of progress in the investigation, she rents three abandoned billboards
near her home
.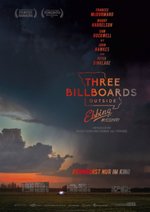 `
vnice.
.,
;;;
_________________
,
"...
Lets do it to them before they do it to us
..." Sgt. Stan Jablonski, Hill Street Precinct