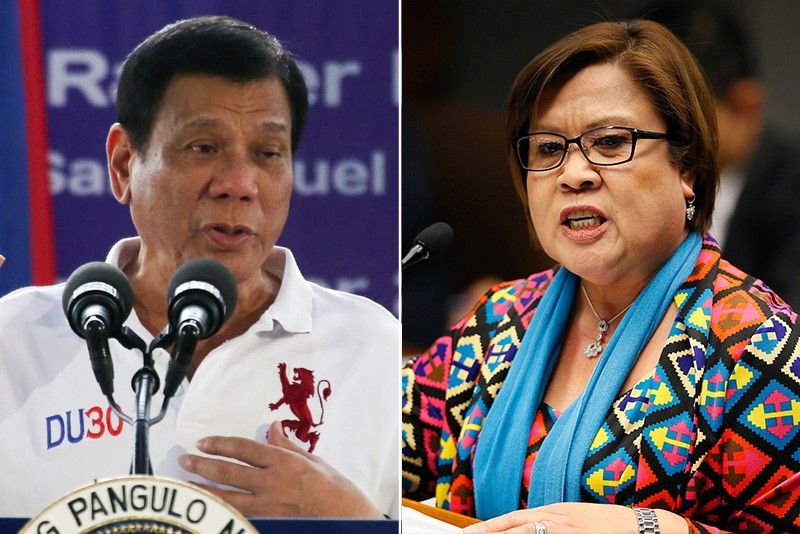 Sen. Leila De Lima on Friday told reporters her wish for President Rodrigo Duterte this 2018: his resignation. Combination Photo, File

De Lima's wish for Duterte this 2018: His resignation
Audrey Morallo (philstar.com) - January 5, 2018 - 5:10pm

MANILA, Philippines — If Sen. Leila de Lima has a wish this new year, it is for President Rodrigo Duterte, one of her staunchest political opponents, to step down from power this 2018.
Attending a hearing for a disobedience to summons case before Branch 34 of the Quezon City Metropolitan Trial Court, De Lima said that the new year would not be happy for Filipinos because of the plans of the administration to change the 1987 Constitution and impose constitutional authoritarianism.
"Well I just want to greet him a happy new year but just like what I said in my dispatch the other day 2018 it seems will not be a happy new year for us because of their plans to change the Constitution and to impose a constitutional authoritarianism," De Lima, who was flanked by her police escorts, told reporters.
"So I don't know what will be happy this year. Maybe if he resigns I will be happy," said De Lima, who is currently detained at Camp Crame because of drug-related charges which she described as concocted by the administration to get back at her for her investigations into allegations that Duterte abetted the commission of extrajudicial killings when he was Davao City mayor and now that he is already the chief executive.
As a response, Malacañang said that De Lima would be disappointed if this was her wish.
"She will be very sad then," presidential spokesperson Harry Roque said in a text message to Philstar.com.
On Tuesday, the opposition senator warned that an authoritarian project was in offing judging by the actions of the administration of Duterte.
De Lima said that some of these anti-democratic actions included the impeachment of Chief Justice Maria Lourdes Sereno and planned ouster moves for Ombudsman Conchita Carpio-Morales, both of whom were appointees of former President Benigno Aquino III.
The senator also slammed the extension of martial law in Mindanao for another year, saying this was an open invitation for the military to support Duterte's assumption of absolute powers.
In recent days, talks of a term extension for Duterte and lawmakers swirled amid speculations that the 2019 elections would be canceled as the country shifted to a federal form of government.
Speaker Pantaleon Alvarez said that the 2019 midterm elections might be canceled to pave the way for a transition period until 2022, when fresh elections for the new system of government would be called.
Sen. Francis Pangilinan, president of the opposition Liberal Party, warned that talks abound in Congress that the president and lawmakers would be given a 10-year term extension.
"Aside from Duterte, all congressmen and senators will be given term extensions. Since there are no elections, this means no expenses for politicians because no one will step down from his position," Pangilinan said in a statement on Thursday.
The Palace, however, has shot down such suggestions, saying such a move was "out of the question."
"The president has been very clear about it, that he does not wish to extend his term," Roque said on Thursday.
The president has indicated in the past that he was willing to cut short his term should a new Constitution suitable to the way of life of Filipinos be enacted.
Read more at
http://beta.philstar.com/headlines/2018 ... 3PQsQoS.99