DTruthshallmakeufree wrote:
To Enigma , I guess I did not complete my statement. When I said beating Carlsen , I mean beating him in match for the world championship, not in a one on one game. And that certainly is not a 50/50 chance for any of those GMs which I predicted as having zero chances, including "your boy" , So. I based it on their strenght and track records on one on one matches where they play a series of games against each other at different time speeds.
brad, kung ang turing mo kay Wesley ay "your boy", baka mas ok refrain from posting negative comments or mga pasaring na nag-u-undermine sa efforts ni Wes.....base naman sa title ng thread, pangsuporta ang layunin dito, turing namin kay Wes, "our boy".....suggestion lang naman, hopefully maging makulit ka pa para mga mods na ang bahala sa yo
siyanga pala, eto si Pichay baka interested ka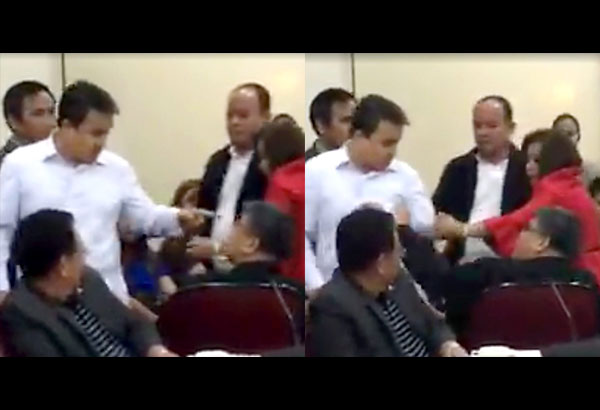 Quote:
Photos from a GMA News Online screen grab show Surigao del Norte Rep. Robert 'Ace' Barbers pointing a finger at Surigao del Sur Rep. Prospero Pichay following a heated exchange over a motion during a House panel hearing on Charter change. Pichay shoved Barbers then stood up but was restrained before a fistfight could break out.
Pichay pleads not guilty to criminal raps over anomalous chess tourney
GMANews wrote:

Surigao del Sur Rep. Prospero Pichay Jr. pleaded not guilty to the criminal charges filed against him over his alleged misuse of P1.5 million of Local Water Utilities Administration (LWUA) funds to sponsor a chess tournament in 2010.

Pichay entered the plea during his arraignment before the Sandiganbayan Fifth Division on Thursday.





Pichay, along with former LWUA administrator Daniel Landingin, former deputy acting administrator Wilfredo Feleo, and former senior deputy administrator Emmanuel Malicdem were all charged with violation of Section 3 (e) of Republic Act 3019 or the Anti-Graft and Corrupt Practices Act.

Pichay was also charged with violation of Section 7 (a) of RA 6713 or the Code of Conduct and Ethical Standards for Public Officials and Employees.

Based on the Ombudsman investigation, Pichay, allegedly in conspiracy with Landingin, Feleo and Malicdem, approved in August 2010 the release of P1.5 million to the National Chess Federation of the Philippines (NCFP) as sponsorship grant for the 2nd Chairman Prospero Pichay Jr. Cup International Chess Championship.

The Ombudsman said the sponsorship grant was approved and facilitated by the LWUA Board despite its earlier memorandum suspending sponsorships to sports and cultural activities, in order for the agency to better finance its operation expenditures.

However, in an interview with reporters after his arraignment, Pichay insisted that they did not violate any law as they were only promoting sports.

"I believe we did not violate any law because even the Constitution promotes sports. National Chess Federation is a national sports association being supported by the government," Pichay said.

"In fact, we are encouraged not only in all government agencies but including government corporations to support sports," he added.

Pichay said he found the Ombudsman's filing "very peculiar," given that they were only supporting sports.

"In fact, because of my leadership in NCFP, a Filipino is now number two in the world in chess. We should be proud of that achievement," he said.

Moreover, Pichay insisted that he did not commit an ethical violation.

"It's not unethical. It can only be unethical if I had personal benefits. I did not have personal benefits at all because the money went to the tournament. And as I said, government agencies are being encouraged to support sports," he said.

Pichay is hoping that the trial will proceed following his arraignment so that the truth will come out.

"I don't really mind being arraigned today so that the proper hearing will now proceed and we will be able to ferret out the truth," he said.

Pichay had earlier sought the court's nod to dismiss his case but was denied in a resolution promulgated February 13.

The court set the preliminary conference of his case on March 9. —KG, GMA News