The Russians are already alarmed ...
Wesley So: Transfer Completed. Yet Another Gain for the USA
Пятница, 31.10.2014 05:27
Yet another notable transfer to the U.S. Chess Federation has happened: now Wesley So represents it officially. Moreover, he is next to Nakamura among the U.S. players in the current FIDE rating list.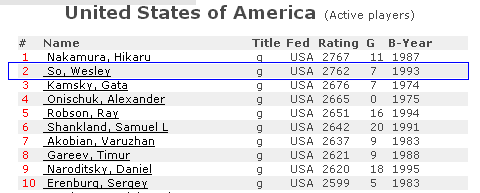 Wesley had explained the reasons behind his desire to switch federations in his open letter to the President of the NCFP. According to So, his former federation was making difficulties to him on the way, but a month after his letter he said:
"They cannot stop me from making the transfer. The only thing they can do is make me wait for approximately another full year. This would certainly harm my chess development because I have to sit out on all official FIDE tournaments, including the World Championship cycle, and various important invitations."
Eventually, his waiting appeared to be shorter than that.
Let us remind you that the list of top women U.S. players has been also changed, since it has already welcomed
Nazi Paikidze
.
http://chess-news.ru/node/17110?_utl_t=fb
::: ::: :::
Many were doing the transfer before, others are doing that today ... Wesley not alone !!!