dwight wrote:
godofredo wrote:
The tandem of Abe and Buboy can be summed up into.
They are not the REAL DEAL but as Onyok said No DEL as in Deal or No Deal.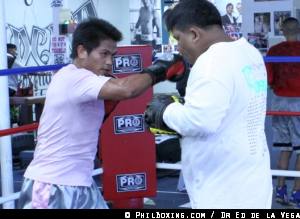 what abe need is a real trainer...a former boxer and not coming from the kitchen.
Abe has the potential..
But Buboy don't know what he is doing..
Villamor of ALA Boys would do much better than what Buboy has done..
I agree with you. This is not to disparage Buboy but he has no experience as a boxer. His little knowledge in boxing is only thru Roach by way of tranlation english to tagalog though manny would have understand better in cebuano.
Great trainers are former boxers, no need to mention them. They know being hit and they know the power of punches.
Abe has the power, harness the power...how. Just like the power of sun, the power of water current, can be converted to electric power...only electric engineers can do that.
Abe has a future, he is still young and we need a professional to harness that human power.
I think Onyok would do better than buboy.