NOTHING fascinates more to a boxing fan when he knows that a forthcoming battle is more than a boxing match but a GRUDGE MATCH in the making. Goosebumps all over. Commentators liken the atmosphere to trains about to collide or a volcano that is bound to explode. Nothing really beats an anticipated slambang event, which has an immortal rivalry written all over it, because it is the stuff that inevitably etches its way to boxing history.
HOWEVER, even though fights like those almost always lived up to its billing and a big hype in itself to begin with, there were notable classic encounters that lingered off the ring, grudges that even the passing of time could not extinguish.
Take for example, the story of Ali and Frazier, from friends to sworn enemies(in the cruel heart of Smokin' Joe), was still a subject of recent documentary.
During the peak of their rivalry, from radio and public appearance, press conference brawl--- Erik Morales and Marco Antonio Barrera seemed to have a genuine dislike of each other. In result, their animosity ushered one of the most memorable blood and guts trilogy of all time.
BAD BLOOD is more often equated to GOOD FIGHT. In the case of Oscar de la Hoya, he achieved some of his most celebrated victories over Fernando Vargas and twice over Julio Cesar Chavez. To this date, the FLAME still burned in the hearts of both defeated Mexicans and their undying grudge over the Golden Boy is well-documented.
On a lighter side, revenge is the best motivation to exact justice by way of rematch. What if the other guy won't give him another shot? Will you go to his turf and offer a mocking challenge right before his fans as Juan Marquez did to Manny? Will you call him out at every opportunity or bother him for the rest of his boxing career, from sunrise to sunset, as Bernard Hopkins did and occasionally still does to Roy Jones Jr.?
Or if you are a Boxing Commentator, will you always pick against the fighter you hate so much in prefight predictions as Teddy Atlas never failed to do so against Oscar de la Hoya?
There's a long list of the most unforgettable grudges and bad blood in boxing history. They make this sport even more exciting and rewarding.
MUHAMMAD ALI - JOE FRAZIER RIVALRY
ALI taunting FRAZIER with his gorilla toy during the press conference
The classic brutal encounter (Thrilla in Manila)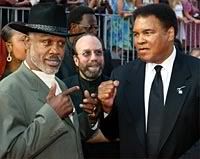 The wound that never heals- UNFORGIVEN and UNFORGOTTEN
ERIK MORALES - MARCO ANTONIO BARRERA HATEFEST
_________________________________________________________________________
And.....
The consolation hug that Juan Manuel Marquez didn't want
BAD BLOOD indeed...
STILL bitter to the end...THE MEXICAN GRUDGE
Please share some old and new stories that never die...
Let's enshrine them in the
HALL OF FLAME
...