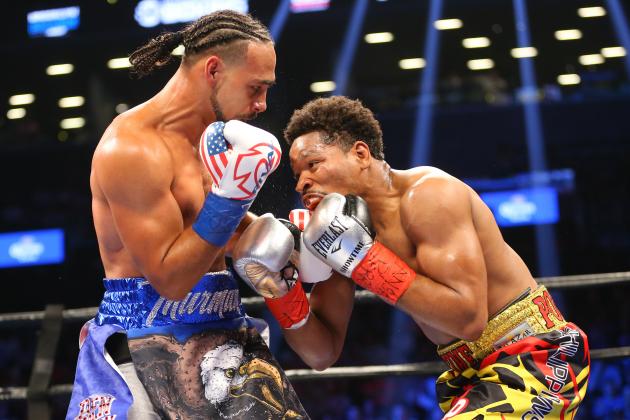 Keith Thurman's letter to fans: Why boxing is not a dying sport and never will be
By: Bob Velin
He took up boxing at the age of 7 when a janitor at his elementary school showed him a sparring match for the first time.
Twenty years later, Keith "One Time" Thurman has made the Sweet Science his life's work and passion. Today, Thurman, 27, is unbeaten, the WBA welterweight champion, a knockout machine with power in both hands and is ranked among the 10-best pound-for-pound boxers in the world, including USA TODAY Sports/BoxingJunkie, which has him at No. 8.
It irks the Clearwater, Fla., native to hear pundits who know little or nothing about boxing proclaim the sport dead or dying. It must be dying. Why, how will it ever replace Floyd Mayweather? How could it ever have replaced Muhammad Ali, Sugar Ray Leonard, or Mike Tyson?
Yet it always does. There are as many, if not more, great, young, up-and-coming stars in the sport today as there always has been.
This is not to say that boxing doesn't have its share of woes. Promoters are suing each other, some refuse to work with others, thereby eliminating compelling matchups; there has sometimes been rampant PED use, though that's no different from most other sports where conditioning is a key factor; and there has always been some corruption among the sanctioning bodies. Oh, yeah, and don't forget the ringside judging, which, at times, has left fans and media flabbergasted by its ineptitude.
Here's a no-brainer: Boxing is not as popular as it was 50 years ago. The American television viewer today has so many more sports and entertainment programming from which to choose that there's no way it can pull in the ratings it once did, nor can any other sporting event, save for maybe the Super Bowl.
Yet, for all its problems, boxing has a solid fan base that loves the sport and will follow it no matter what. Thurman cites the long and colorful history of the Sweet Science and its current global popularity as reasons for its continued success. He has become so impassioned by the argument that it prompted him to write a letter to boxing fans explaining why he believes the sport is alive and well and, indeed, thriving. His letter, obtained by USA TODAY Sports:
Keith Thurman's open letter to boxing fans
There's been a lot of talk lately about boxing being dead. To those who choose to believe that, I say bull—-. Boxing is not dead. It's as alive as when the bell rings, signaling two fighters meeting in the center of the ring.
What the sport is doing is evolving, and thus the conversation is changing.
Some pundits point to a lack of superstars … but let me quickly stop that talk right there.
I'm one of boxing's biggest stars—WBA Welterweight World Champion, on all the pound-for-pound lists, celebrating 20 years in the sport I fell in love with when my elementary school janitor showed me a sparring match for the first time. I draw millions of fans to watch my fights, whether it's NBC, ESPN or CBS. I set network ratings records, sell out arenas and give the fans what they want every time I walk into the ring.
Deontay Wilder, GGG, Andre Ward, Roman Gonzalez, Anthony Joshua, Terence Crawford, Sergey Kovalev and Canelo Alvarez—all superstar fighters who have had tremendous victories this year and who have been on both cable and network TV this past year.
You've seen rising stars emerge — guys like Robert Easter, Errol Spence and Carl Frampton to name a few. We are all one in this sport — young, smart, hungry and fully aware that our fans want to watch us.
Fights are fights. You put two athletes in a 16-by-16-foot ring and may the best man or woman win. That's boxing.
I hear the chatter and gossip; this fighter is ducking that fighter, this promoter is avoiding that matchup. To that I say bull—-. Fighters fight, promoters promote. Timing and schedules aren't always in our hands. The matches we as fighters want to fight and you as fans want to see will be made. The speed of evolution runs its own race.
When I look back over the last two years I'm amazed at how we've changed and how fast we've done so. We're now on network and cable TV. You can pretty much watch a boxing match every weekend, something you couldn't do in recent years.
As a young fighter, it was always about getting on TV, about the networks taking a chance and saying yes to us. It seemed as if getting all the networks to understand our sport was the bigger challenge. We wanted a chance to have the air time that our brothers in football and basketball did decades ago when their sports evolved. We knew we had an audience, fans just wanted the opportunity to watch us outside of the pay-per-view model.
My division (welterweight) has one of the strongest and most diverse fighter pools around. It has set up an incredible arc of fights going into and through 2017. But it's not just my division. The featherweight, middleweight, heavyweight – hell, almost every division — is six-to-eight quality fighters deep. The talent pool is global and the ability to create fights and division tournaments is there.
My former coach and mentor Ben Getty prophesized this moment for me and knew that our sport would be bigger than ever during my career. I'm proud to be one of the leaders of this sport and proud to be part of its evolution. I cannot wait to see what comes next as both a fighter and fan.
I'd like to thank Al Haymon, Premier Boxing Champions, all the networks that carry the PBC — NBC, Fox, CBS, ESPN, Showtime, Spike, Bounce, Fox Deportes, ESPN Deportes, NBCSN — and most important the fans who have stuck by me throughout my career. Stay tuned, you will be seeing more of me and my colleagues on TV and you will be proud to say 'I am a boxing fan.'
Thurman acknowledges that any discussion of boxing's popularity must include a comparison to mixed martial arts, specifically the UFC, which has grown exponentially the last few years. But when it comes to money earned by its athletes, MMA is still a distant second, mainly because outside of UFC and Bellator, there's really nowhere for MMA fighters to go. You take what they offer or you don't fight.
Mayweather was the highest paid athlete in the world, according to Forbes, in 2012, 2013 and 2015. He earned nearly $500 million in those three years, including $300 million in 2015 alone. "Really the argument ends right there," Thurman said. "That's what I used to tell people."
The highest-selling UFC pay-per-view event of all time was Nate Diaz-Conor McGregor II earlier this year, with 1.65 million buys. McGregor earned a UFC record $3 million for the win.
Mayweather-Pacquiao shattered the previous boxing PPV record with 4.4 million buys in 2015, and Mayweather had two other fights that tallied more than 2 million buys going back to 2007. Yet all people remember about the richest fight of all time was how disappointing it was that it failed to live up to the hype, which might have been impossible no matter what happened.
Last month on NBC, Spence's knockout of Leonard Bundu at a small venue in Coney Island, N.Y. averaged 4.8 million viewers, peaking at more than 6 million. Thurman fought Robert Guerrero in the PBC's debut on NBC in 2015 and more than 3 million viewers tuned in. Last Friday on little known Bounce TV, a PBC card headlined by lesser-known fighters Ishe Smith and Frank Galarza drew 1.3 million viewers.
"UFC has grown rapidly, tremendously throughout its career – it's way younger than boxing. It's very fruitful, there's tons of money in it," Thurman says. "Everybody who's been involved with it has been very successful. It has evolved to where fighters are getting paid more like what they're worth nowadays. It is a sport, it has its own fan base, but boxing goes back to Queensberry, man, boxing goes back to the Roman Empire. Boxing is a part of human nature."
Thurman (27-0, 22 KOs) used to wonder why boxing was called a "gentleman's sport" when men are punching each other in the face.
"I finally realized why boxing is called a 'gentleman's sport' when I watched UFC," he said. "Boxing is a gentleman's sport because we are only allowed to use our hands. It limits the way you can injure a person, right?
"But how it really becomes a gentleman's sport is when one man knocks another man down. We do a standard 10-count. That gives that man time to stand up, recoup  and get back in the fight. Some of the greatest boxing matches of all time are when one man gets knocked down, gets up and knocks the other man down.
"It's stuff like that you will never be able to witness in the UFC because of how many weapons they have. They can do ground and pound, there's diversity in the fight styles, there are fewer rules, it's easier to bleed, you can strike with the elbow, you can strike with the knee, there's more force. The thigh is a bigger muscle, so there's a lot damage."
Thurman brings his argument full circle to boxing's great history.
"I'm part of the history of the sport, and one thing that drew me to the sport was my dream to go down in the history books as one of the best welterweight champions of all time," he says. "UFC does not have the history. They have extreme excitement, if that's what you're into, but they don't have the history behind it.
"And that's why boxing is not dead, was not dead and will never die."
(Photo of Thurman, left, fighting Shawn Porter in June by Getty Images)