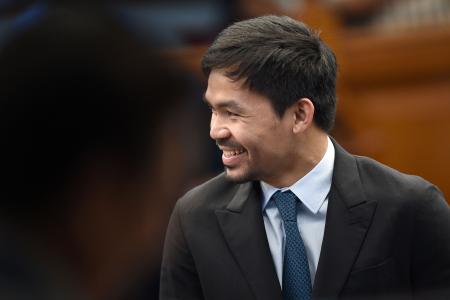 Don't Count Out Manny Pacquiao as Boxing's Best Fighter Just Yet
Kelsey McCarson
Sep 28, 2016
Manny Pacquiao is 37 years old, but he still has what it takes to be the best fighter in the world.
There was a time in our sport when a boxer reaching Pacquiao's age would be considered ancient. It's still generally true. However, as fighters of the modern era focus more on the advances in nutrition and conditioning their forefather's didn't have—and maybe even as they become more educated about things like what happens to a famous professional boxer once his ability to make millions of dollars ceases—fighters these days just keep fighting, and they do it pretty well.
There's no shortage of opinions in the media on what fighters like Pac-Man should be concerned about. Some think Pacquiao's just too old to be anything close to what he was at his peak.
Others point to the threat of boxing leading folks to mental illness.
Others just want to dictate their wishes. Quit while you can. That's what Tony Katigbak suggests in the Philippine Star.
But why?
Has Pacquiao shown decline to the point of being scared for his safety? Is there any real reason one of the top fighters of his era should stop fighting other than maybe our own vain interests in preserving our memory of him—or any other great fighter we support—as the very best version of himself?
Or at least maybe we just don't want to witness him become the shell of what once was the way we had to watch Muhammad Ali, Larry Holmes and Evander Holyfield become during the late years of their careers?
Perhaps a more modern example is Roy Jones Jr. Was there a better fighter than him at his best? And has there been more of a gap between how great a pugilist he was at his best to what he has now become at the end?
But Pacquiao is not there yet. In fact, after announcing his plans to come out of his short-lived retirement, Pacquiao burst back into most top-10 pound-for-pound lists out there, including our own here at Bleacher Report.
And why shouldn't he?
Pacquiao looked exceptional in his last fight. In April 2016—yes, less than half-a-year ago—Pacquiao easily dismantled Timothy Bradley—an excellent fighter who had already shared the ring with Pacquiao for 24 rounds over two fights, Bradley looked better than ever leading up to the rubber match with his rival.
Bradley was the first man ever to stop Brandon Rios a few months prior, but as soon as the bell rang against Pacquiao, he was completely befuddled by the superior man's speed and power. Whatever he had going for him headed into the fight, Bradley was lost in there. He couldn't outbox him. He couldn't out-slug him. He couldn't make him miss.
He was toast.
And Bradley is elite. He isn't Floyd Mayweather, but Pacquiao's opponent in November, Jessie Vargas, isn't either. And neither is anyone in boxing right now other than the retired Mayweather, a man who is probably the only boxer still in fighting shape with better credentials than Pacquiao.
Big fights still loom. Pacquiao should handle Vargas with relative ease. The current WBO titleholder is good, tough and durable, but he doesn't possess an elite skill set like Pacquiao.
For the returning Pacquiao, a welterweight title win could set up bouts against the likes of Amir Khan, Terence Crawford or even Mayweather again.
And who is to say Pacquiao—the man who shockingly stormed up to welterweight and above to beat Oscar De La Hoya, Ricky Hatton, Shane Mosley and Miguel Cotto—after being the best little fighter of the era, couldn't surprise everyone again?
For the pessimist out there, remember a lesson from history. The aforementioned Holyfield, who fought well beyond his shelf life as an elite fighter, was considered washed up near the very same age that Pacquiao is now.
A kid at the time, I remember fear—not just concern but absolute terror—that Holyfield, in his mid-30s, was on his way to injury or even death against Mike Tyson in 1996. But Holyfield beat Tyson and went on to secure his place among the all-time great heavyweights in history.
Let's be clear, though. Even if he hadn't beaten Tyson, Holyfield, as a fighter, deserved to go out his own way. All fighters do, and Pacquiao should choose his own path, too.
Heck, he has. He's fighting Vargas in November.
And Pacquiao could still be the best fighter in the world. But he might not be, too. He might be middling. As unlikely as it seems, he might even be terrible.
But fighters deserve the benefit of the doubt as they grow older. If anything, it's because all those scrubs they belted to the canvas on their way up the ranks didn't have the public's misplaced concern. We didn't care they couldn't compete. We just let them fight because that's what they came into boxing to do.
Those guys just got whipped, and if there's something wrong with a fighter—any fighter—getting beat-up because he doesn't have the skill or speed or power or whatever to beat the man in front of him—due to age or any other attribute he possesses (so long as he can pass the required tests)—then boxing should just close shop.
Boxing should stick around. So should Pacquiao so long as he wishes to do so.