King James has caused mayhem in these playoffs - and he's far from done
From: Homer D. Sayson May 13, 2018, 10:09 pm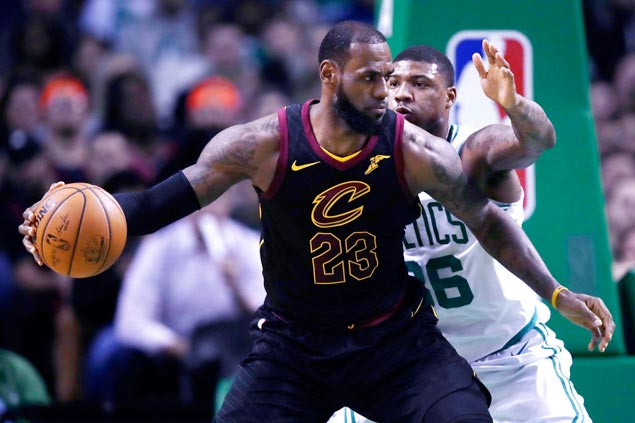 LeBron James is like an avalanche. You know it's happening because the ground shakes, the winds murmur, and piles of angry snow cascade down the mountains. But there's just nothing you can do about it, except pray and hope for the best. AP
CHICAGO - When the TD Garden in Boston blares its arena music for Sunday's Game One of the Eastern Conference Finals, it might be appropriate to cue in this Taylor Swift song: 'I Knew You Were Trouble.'
LeBron James, an old nemesis - graceful in his magnificence yet ruthless in his ways - will enter the building amid deafening jeers. The King will drag with him a resurgent band of Cavaliers who have awakened from a first-round postseason slumber.
And trouble they will bring. Much, much.
On paper, the Celtics are the better team, the higher seed. They are younger, deeper and more explosive. And their coach, the vastly cerebral Brad Stevens, did not pull one wrong string while diagramming his team's mild upset over the unfinished process that were the Sixers.
Al Horford, the oldest Celtic at 31, is the undisputed leader. Besides his 17 points and 8.7 rebounds a game average, Horford, who makes a cool $27 million this season, provides the reassuring poise when times get tough, like an oak tree in a mighty storm.
At 20 years young, Jason Tatum is growing up in front of our bedazzled eyes. Averaging 18.8 points, 4.5 rebounds and 3.2 assists in these playoffs, the bright lights and the enormous stage don't seem to bother this 6-foot-8 rookie from Duke.
Jaylen Brown is making the transition from anonymous to famous look easy. He is doing it by making 48.7 percent of his field goals and 41.5 percent of his 3s. He, too, isn't afraid of taking the big shots in the big moments.
They don't call him 'Scary Terry' because he's nice. Terry Rozier is nasty. He is leads Boston in scoring (18.
and assists (5.
. At one point in these playoffs, according to an ESPN stat, Rozier had 40-plus assists against only one turnover in fourth-quarter plays, a validation of his dependability down the stretch.
And then there's Aron Baynes and Marcus Smart, a pair of dudes who carry "rough" as a middle name. Smart, 6-foot-4 and 220 pounds, guards the perimeter like a doberman while the 6-foot-10 Baynes protects the middle from trespassers with his immeasurable shot intimidation.
On paper, the Celtics, who score 104.1 points a game and sink 36 percent of their long-distance bombs, should win, right?
Guess what, they don't play this on paper.
LeBron James defies any metric, any stat, anything.
Akron Ohio's natural wonder, LeBron is like an avalanche. You know it's happening because the ground shakes, the winds murmur, and piles of angry snow cascade down the mountains. But there's just nothing you can do about it, except pray and hope for the best.
Even at age 33, a year removed from a normal athlete's prime, the King is not showing even the slightest hint of decline. And making $33 million this season, he continues to be a bargain. Getting stronger as he diligently pursues another NBA Finals run, he has a near triple-double average of 34.3 points, 9.4 rebounds and 9.0 assists.
So far, this is the mayhem LeBron has caused in this year's playoffs. He teased the Pacers and made them think they had a shot, only to snuff the life out of them in Game Seven. He disemboweled the Toronto Raptors, broke the heart of an entire country, and turned Dwane Casey from Coach of the Year to unemployed.
To think that LeBron is a one-man army is like denying climate change is happening.
Collectively, the Cavs shoot 46.7 percent from the field and 35.1 percent from 3-land. That amounts to 103.5 points per. They pull only 38.5 rebounds a contest, which can be a weakness. And they cough up 12.1 turnovers per, some of which occur during ill-opportuned times.
But the Cavaliers have enough firepower to light up Boston.
Kevin Love delivers 14.7 points and 10.1 rebounds per. Kyle Korver and J.R. Smith combine for 20.5 points between them. Jeff Green has rediscovered his shooting touch while Tristan Thompson continues to be a menace under the boards.
Just like he has done against the Pacers and Raptors, LeBron will break the hearts of Boston's faithful. And he couldn't care less about their feelings. He has a championship to chase.
Taylor Swift said it best in a song: 'No apologies. He'll never see you cry. Pretend he doesn't know that he's the reason why you're drowning, you're drowning, you're drowning.....I knew you were trouble when you walked in.....'
Cavaliers in six.
Read more at
https://www.spin.ph/basketball/nba/spin ... 4TGRxwO.99