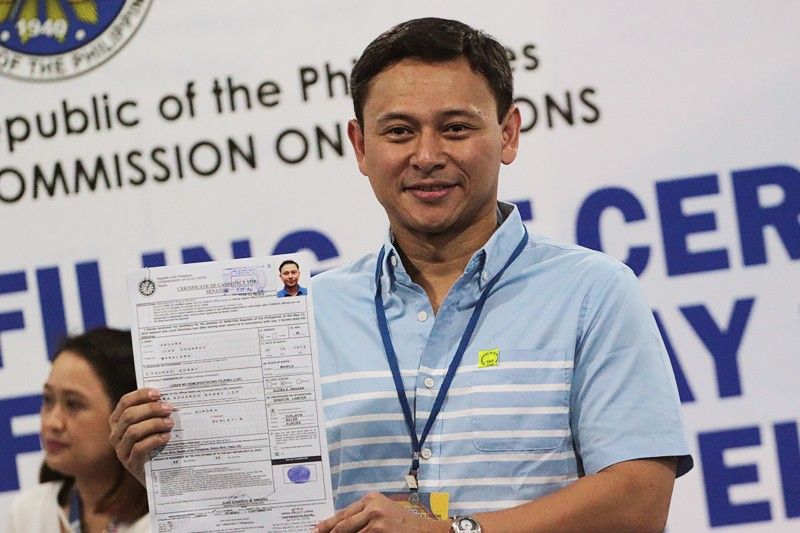 Sonny Angara, Senate's tax man, seeks second term
(philstar.com) - October 17, 2018 - 10:14am
MANILA, Philippines — Sen. Juan Edgardo "Sonny" Angara on Wednesday filed his certificate of candidacy as the lone senatorial candidate of Laban ng Demokratikong Pilipino.
Reelectionist senator Sonny Angara said senators are not keen on passing TRABAHO bill now. The measure seeks to reduce corporate income tax rate and rationalize investment tax incentives. @PhilstarNews pic.twitter.com/6XeUZMUcK0
Related Stories
Speaker Arroyo delivers, passes TRABAHO at House
LIVE updates: 2019 candidacy filing— Ian Nicolas Cigaral (@ipcigaral) October 17, 2018
The senator is seeking re-election at a time of high inflation that has, government economists say, unfairly been attributed to the Tax Reform for Acceleration and Inclusion Law that he shepherded through the Senate as chairman of the Ways and Means Committee.
The committee will also handle a second tax reform package, dubbed TRAIN 2, which aims to rationalize fiscal incentives.
The bill will likely have a more difficult time through the legislative mill because of public reaction to TRAIN 1.
Angara has expressed support for the Rice Tariffication bill, which aims to remove limits on how much rice can be imported into the Philippines but will impose tariffs on those imports to keep rice from flooding the market and edging out locally grown rice.
Angara's committee has been working with the Agriculture and Food, and Finance committees on that bill
Angara is also chairman of the Committee on Education, Culture, and Sports as well as the Committee on Local Government.